Band Nerds Confessions: Quotes from the 13th Chair Trombone Player (Paperback)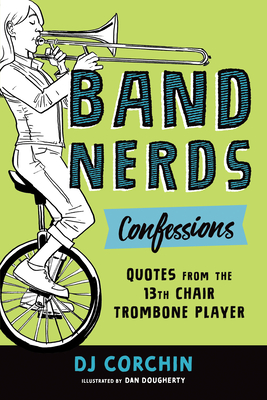 Description
---
A hilariously brilliant compilation of all things related to band-nerd utopia will have you at cello! This sharp installment of the 13th Chair series from DJ Corchin is laugh-out-loud funny!
Socrates. Plato. Aristotle. Mere child's play! Band Nerds Confessions is the newest addition to the Band Nerds Book Series. With over 800 quotes, anecdotes, and thoughts from the 13th Chair, there isn't a larger source of band hodgepodge genius on the planet.
We've all wondered what our messy music lockers say about us. Or dreamed of the many ways instruments can fit together to form a super robot. Truly thought-provoking words await you. Go ahead, open to any page and transport yourself to the humorously inspiring music world of the 13th Chair!
About the Author
---
DJ Corchin is an award-winning children's book author and illustrator. He uses his unique humor and wit to focus on socially conscious messages involving kindness, communication, and emotional awareness. He currently lives and works in Chicago, IL.
Dan Dougherty is the writer and illustrator behind several comics and children's books. When he isn't making comics, Dan teaches how to make them at the International School of Comics in Chicago.