Band Nerds: Poetry from the 13th Chair Trombone Player (Paperback)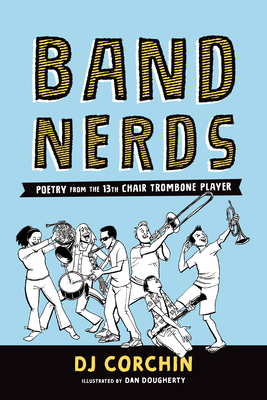 Description
---
The perfect gift for a current band members and band directors, and a hilarious look back for band alumni, Band Nerds: Poetry is a delightfully geeky instant classic to share with all the music lovers in your life!
Music's among us,
wherever you look,
there's band nerds around us
even reading this book.
For anyone who's been in band, seen a band, or can spell the word "band," this one is for you! Band Nerds: Poetry From The 13th Chair Trombone Player is a book of hilariously inspiring poems and illustrations all about—you guessed it—BAND! Come join the wild antics of those lovable band nerds like the egotistical trumpet player, bad-boy percussionists, flirty-yet-stuck-up flute, overzealous oboe, and many more. Explore the humorous and zany world of band geeks, music dweebs, and well...you get the picture. But be careful—you might just fall in love with them!
About the Author
---
DJ Corchin is an award-winning children's book author and illustrator. He uses his unique humor and wit to focus on socially conscious messages involving kindness, communication, and emotional awareness. He currently lives and works in Chicago, IL.
Dan Dougherty is the writer and illustrator behind several comics and children's books. When he isn't making comics, Dan teaches how to make them at the International School of Comics in Chicago.
Praise For…
---
"A humorous, fun way to introduce poetry to young readers...Classroom teachers and school librarians will benefit from including this wacky collection into their library." — School Library Journal