The Marching Band Nerds Handbook: Rules from the 13th Chair Trombone Player (Paperback)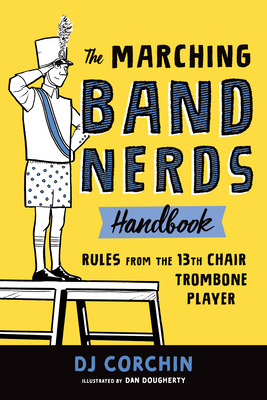 Description
---
The perfect gift for band nerds past and present, The Marching Band Nerds Handbook deftly captures all the humor and inside jokes band nerds love. Hold on to your shirts and plumes!
This hilarious and inspiring guide to surviving life in the marching band is for anyone who has taken a step on the marching field or has just driven by a field on the highway. All the best (and funniest) secrets are revealed in this series of rules and illustrations that, if followed strictly, almost guarantees world domination (actual results may vary).
Band nerds of all ages are sure to agree with expert rules like:
Never give drummers metal sticks—they'll think they're ninjas (but most ninjas are actually clarinet players)
Band parents may be adults but that doesn't mean they don't still need supervision
Don't lock your knees while standing at attention
Marching band is an art, not a sport—but if it were a sport, the drummers would win
Share The Marching Band Nerds Handbook with all the band nerds in your life!
About the Author
---
DJ Corchin is an award-winning children's book author and illustrator. He uses his unique humor and wit to focus on socially conscious messages involving kindness, communication, and emotional awareness. He currently lives and works in Chicago, IL.
Dan Dougherty is the writer and illustrator behind several comics and children's books. When he isn't making comics, Dan teaches how to make them at the International School of Comics in Chicago.