Six Months Later (Paperback)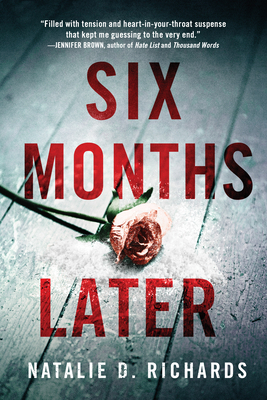 $10.99

Usually Ships in 4-7 Days
Description
---
From the New York Times bestselling author of teen suspense books, Natalie D. Richards, comes a psychological thriller about a girl who wakes up with everything she's ever wanted, but can't remember the last six months of her life, perfect for fans of One of Us Is Lying and If I Stay.
When Chloe fell asleep in study hall, it was the middle of May. But when she wakes up, snow is on the ground, and she can't remember the last six months.
Before, she'd been a mediocre student.
Now, she's on track for valedictorian and being recruited by Ivy League schools.
Before, she never had a chance with sports star Blake.
Now he's her boyfriend.
Before, she and Maggie were inseparable.
Now her best friend won't speak to her.
What happened to her? Remembering the truth could be more dangerous than she'd ever imagined.
This book is perfect for:
Readers of all ages who want thriller books in paperback
Fans of Karen McManus and Natasha Preston
Parents looking for mystery books for teens
Praise for Six Months Later:
YALSA Teens Top 10 nominee
"[A] smart, edgy thriller."—Kirkus
"Well paced and beautifully written…This romantic thriller will leave readers on the edge of their seats until the very last page."—School Library Journal
"An intense psychological mystery… has the feel of a high-stakes poker game in which every player has something to hide."—Publishers Weekly
Also by Natalie D. Richards:
Five Total Strangers
Gone Too Far
My Secret to Tell
One Was Lost
We All Fall Down
What You Hide
About the Author
---
Natalie D. Richards writes books that will keep you up way past your bedtime. She lives with her family in Columbus, Ohio and when she's not writing or reading, you can probably find her wrangling Wookiee, her enormous dustmop of a dog. Visit her on Twitter @natdrichards or at nataliedrichards.com.
Praise For…
---
"As tension rises among these sharply observed characters, this smart, edgy thriller taps into the college-angst zeitgeist, where the price of high achievement might just be your soul. " — Kirkus Reviews

"An intriguing story line . . . readers will be drawn in to the mystery of what happened to Chloe and will never guess the ending. " — VOYA

"An intense psychological mystery . . . Richards constructs Chloe's fear, paranoia, and scheming with great care. Her novel has the feel of a high-stakes poker game in which every player has something to hide, and the cards are held until the very end. " — Publishers Weekly

"The story is well paced and beautifully written, with fully developed characters teens can easily relate to. This romantic thriller will leave readers on the edge of their seats until the very last page. " — School Library Journal

"An intriguing new book loaded with suspense. The shocking reasons behind Chloe's transformation will keep you guessing until the very end, culminating in a stunning truth. So what really happened in those six months? You'll just have to pick up this incredible book to find out for yourself." — Girls' Life

"Confusion and a desperate search for answers drive the action in this captivating thriller . . . As the mystery builds, so do the stakes and the romantic tension. " — RT Book Reviews, 4 stars

"The pressure and angst of precollege life, perfect grades, and test scores take center stage in this debut thriller. Readers are thrown right into the mystery alongside Chloe, and as the plot is slowly uncovered, the suspense rises to a shocking crescendo of events. Chloe is an intriguing character with plenty of gumption, and she makes for a splendid amateur detective. . .With several twists and surprises, this is a well-plotted mystery, sure to keep readers guessing. " — Booklist

"Filled with tension and heart-in-your-throat suspense that kept me guessing to the very end. I predict readers will want more and more from her. I know I do! " — Jennifer Brown, author of Hate List and Thousand Words