Invisible Generals: Rediscovering Family Legacy, and a Quest to Honor America's First Black Generals (Hardcover)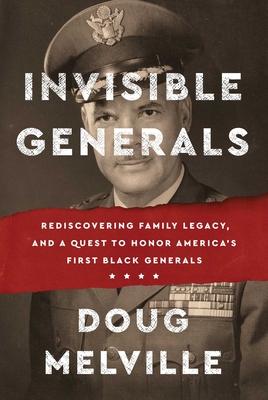 Staff Reviews
---
Our nation's history is full of courageous people. We just don't learn all of it. Melville's uncle and grandfather were among the vaunted Tuskegee airmen. Ollie Davis and Ben O. Davis, Jr. served with honor during multiple wars. But as Black men, they suffered great injustices. Melville tells their story in a very personal way. The last part of the book is a call to action and reflection. This is our history. We need to own it and help spotlight it when we can.
— Valerie
Description
---
The amazing true story of America's first Black generals, Benjamin O. Davis, Sr. and Jr., a father and son who helped integrate the American military and created the Tuskegee Airmen. Perfect for fans of Devotion and Hidden Figures.

Red Tails, George Lucas's celebration of America's first Black flying squadron, the Tuskegee Airmen, should have been a moment of victory for Doug Melville. He expected to see his great-uncle Benjamin O. Davis Jr.—the squadron's commander—immortalized on-screen for his selfless contributions to America. But as the film rolled, Doug was shocked when he realized that Ben Jr.'s name had been omitted and replaced by the fictional Colonel A. J. Bullard. And Ben's father, Benjamin O. Davis Sr., America's first Black general who helped integrate the military, was left out too.

Dejected, Doug looked inward and realized that unless he worked to bring their inspirational story to light, it would remain hidden from the world just as it had been concealed from him.

In Invisible Generals, Melville shares his quest to rediscover his family's story across five generations, from post-Civil War America to modern day Asia and Europe. In life, the Davises were denied the recognition and compensation they'd earned, but through his journey, Melville uncovers something greater: that dedication and self-sacrifice can move proverbial mountains—even in a world determined to make you invisible.

Invisible Generals recounts the lives of a father and his son who always maintained their belief in the American dream. As the inheritor of their legacy, Melville retraces their steps, advocates for them to receive their long-overdue honors and unlocks the potential we all hold to retrieve powerful family stories lost to the past.
About the Author
---
Doug Melville is one of the most innovative voices in corporate diversity. He is a fifth-generation leader whose family worked with several different presidential administrations. He has been featured in numerous periodicals, including Forbes, USA TODAY, Time, Business Insider, and The Washington Post, and he has given three TEDx Talks. Invisible Generals is his first book. Melville currently splits his time between the United States and Switzerland, where he is a global head of diversity, equity, and inclusion in the luxury industry. Find out more at DougMelville.com and follow him on LinkedIn, Instagram, and Twitter @DougMelville.
Praise For…
---
"Melville traces his family's history to ensure their groundbreaking achievements are not forgotten."
—Arlington Magazine

"Documenting unsparingly the opposition they had to overcome due solely to the color of their skin, Melville recounts [his family's] stories with deep emotion, sympathetic with their struggles and angry with the system that made these humans invisible."
—Booklist

"In the rich tapestry of American history, the inspiring saga of the country's first two Black generals remains a lesser-known gem, hidden in the shadows of time. These trailblazers, courageous leaders, and unyielding advocates rose above adversity with the unwavering spirit of justice burning in their hearts. Their story serves as an enduring beacon of hope, a reminder that the path to equality and justice is not without challenges, but it is one worth traversing."
—Ben Crump, Black America's Attorney General

"The book Black America needs in this moment. This American story is rooted in family, loyalty, heart, and excellence. Doug's family is representative of our own families . . . rooted in the consistent legacies of connection, disruption, and love in ways we can all be proud of."
—Eboni K. Williams, journalist, attorney, and author of Pretty Powerful

"For centuries, Black people's contributions to American history have been overlooked—including their contributions to US military prowess. As Black Americans, our stories have power. And it's long past time to reclaim that power."
—Charlamagne Tha God, New York Times bestselling author of Black Privilege

"Invisible Generals is not Black history, nor military history, but American history. The military's first two Black generals paved the way for so many not just in our military but for all Americans—yet they have been invisible for so long. This book will educate and inspire Americans to honor these heroes for their selfless contributions toward moving our nation forward."
—BRIGADIER GENERAL (RET.) LEON JOHNSON, former national president of Tuskegee Airmen, Inc.

"A thoughtful, highly readable blend of family and military history."
—Kirkus Reviews