Love Radio (Hardcover)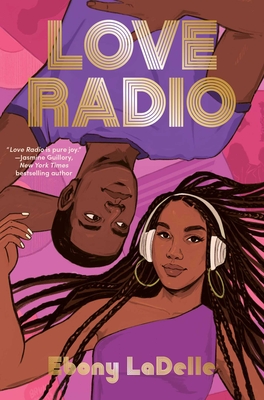 Staff Reviews
---
Prince Jones, also known by many in Detroit as DJ LoveJones, has always dreamed of falling in love. After going through a breakup, Prince wants to take things slow until he notices Danielle "Dani" in the library. Dani, Prince's middle school crush, is not one to believe in love and is hesitant to get involved with Prince as deadlines for college applications come closer. Even so, Dani agrees to Prince's proposal that he can convince her of love after just three dates. A good recommendation for anyone who enjoyed Nicola Yoon's Everything, Everything or Renee Watson's Love is a Revolution.
— Ayah
May/June 2022 Kids Indie Next List
---
"Can DJ Love, a teenage expert on love with his own radio show, take his own advice and build a relationship with the girl of his dreams? Detroit and R&B classics mix with characters you'll fall in love with. A romcom with depth and so much fun!"
— Susan Williams, M. Judson Booksellers & Storytellers, Greenville, SC
Description
---
Hitch meets The Sun Is Also a Star in this witty and romantic teen novel about a self-professed teen love doctor with a popular radio segment who believes he can get a girl who hates all things romance to fall in love with him in only three dates.

Prince Jones is the guy with all the answers—or so it seems. After all, at seventeen, he has his own segment on Detroit's popular hip-hop show, Love Radio, where he dishes out advice to the brokenhearted.

Prince has always dreamed of becoming a DJ and falling in love. But being the main caretaker for his mother, who has multiple sclerosis, and his little brother means his dreams will stay just that and the only romances in his life are the ones he hears about from his listeners.

Until he meets Dani Ford.

Dani isn't checking for anybody. She's focused on her plan: ace senior year, score a scholarship, and move to New York City to become a famous author. But her college essay keeps tripping her up and acknowledging what's blocking her means dealing with what happened at that party a few months ago.

And that's one thing Dani can't do.

When the romantic DJ meets the ambitious writer, sparks fly. Prince is smitten, but Dani's not looking to get derailed. She gives Prince just three dates to convince her that he's worth falling for.

Three dates for the love expert to take his own advice, and just maybe change two lives forever.
About the Author
---
Ebony LaDelle is a marketing pusher by day, storyteller by night. Born in Michigan, awoken at Howard University, and cultivated in Brooklyn, Ebony can usually be found searching for her next live concert, scouting out the latest food craze to try, or being the undisputed Mom Friend of any group. She cohosted Why Not YA?, a @Belletrist and @EpicReads monthly video series where she interviewed authors in the young adult space. You can visit her online at EbonyLaDelle.com and follow her on social @EbonyLaDelle.
Praise For…
---
Ebony LaDelle's Love Radio is an absorbing and romantic YA debut. High school senior Dani Ford doesn't have time for love; more importantly, she's not interested in it--at least, not the way it's portrayed in the old Black romcoms her mother adores. Dani is focused on applying for early admission to MFA programs, writing an "amazing" essay and moving to New York City where she'll become "the next Maya or Audre." But she is suffering in silence after a recent painful experience, the trauma giving her writer's block and threatening to unravel all her plans.

Seventeen-year-old Prince Jones (aka DJ LoveJones) is a local Detroit celebrity: he's the only teen DJ on Love Radio, where he gives relationship advice to callers. Prince, who is the main caretaker for his mother (who has multiple sclerosis) and his seven-year-old brother, Mook (who's been diagnosed with ADHD), believes his dreams of becoming a DJ and one day falling in love don't seem particularly achievable. Despite this mindset, Prince gathers the courage to talk to his longtime crush, Dani, who is aggressively disinterested. In a last-ditch effort, Prince convinces Dani that if she goes on just three dates with him, she'll fall in love.

Love Radio is a beautifully written novel that gives readers intimate first-person perspectives of both protagonists. LaDelle covers big topics like love, disability, parental abandonment, depression and sexual assault delicately and with empathy. Dani and Prince's love story shows teen readers that taking a leap or stepping outside your boundaries can lead to new experiences and growth.--Natasha Harris, freelance
— Shelf Awareness - STARRED REVIEW

"Love Radio is pure joy. This book is a celebration of Black love, Black teenagers, Black friendship, and the Black family, and I adored it from beginning to end."
— Jasmine Guillory, New York Times bestselling author

"Prepare to swoon: LaDelle's Love Radio gives voice to some of the sweetest hopes and the hardest truths. Readers won't be able to get enough of these dope-ass characters."
— Elizabeth Acevedo, author of Clap When You Land

"We've been waiting for an author like Ebony LaDelle. Love Radio is mega swoonworthy, effortlessly cool, and full of heart. Turn this one all the way up."
— Casey McQuiston, New York Times bestselling author of Red, White & Royal Blue and One Last Stop