Simple & Safe Baby-Led Weaning: How to Integrate Foods, Master Portion Sizes, and Identify Allergies (Paperback)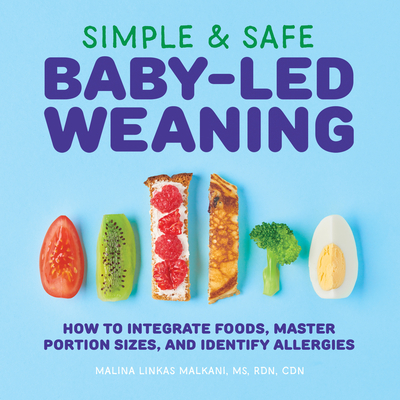 $14.99

Usually Ships in 4-7 Days
Description
---
Your safe and healthy guide to baby-led weaning for babies 6 to 12 months
Start your little one on solid foods the healthy way.
Simple & Safe Baby-Led Weaning
empowers you to help your baby feed themselves while they develop motor skills and an adventurous palate. Learn when to begin baby-led weaning and what to expect along the way while also getting practical advice for creating balanced, whole-food meals that your baby can eat alongside the rest of the family.
Go beyond other baby food books about feeding, with advice for:
Getting started—Discover a basic overview of how baby-led weaning works, and find out if and when it's the right approach for your baby.
Staying safe—Breathe easy with safety guidelines that include information on prohibited foods and smart kitchen habits.
Identifying allergies—Find out how to navigate or even prevent allergies and sensitivities as your baby tries new foods for the first time.
Help your baby take the lead on their exploration of solid foods with this accessible guide to baby-led weaning.
About the Author
---
MALINA LINKAS MALKANI, MS, RDN, CDN, is a registered dietitian nutritionist with a nutrition lifestyle company and private practice (MalinaMalkani.com). She is a nutrition expert for media outlets including U.S. News & World Report, Reader's Digest, and Food Network.
Praise For…
---
"This should be a well-thumbed and food-stained volume, giving parents an understanding of the concept, a friendly helping of confidence, and lots of very practical, evidence-based advice. How much more comfortable for everyone to give the littlest family member a seat at the table."—Miriam Weinstein, Author of The Surprising Power of Family Meals

"Parents have asked and Malina has delivered an easy-to-follow, fun-to-read, well-researched guide to baby-led weaning. Malina artfully combines practical advice rooted in child development with the most current recommendations on introducing allergenic foods and dealing with picky eaters. I will certainly recommend it to my patients."—Lauren Carton, MD

"Malina Malkani will help boost the confidence of overwhelmed new parents gearing up to feed their babies solid food for the first time. Malkani's balanced approach to feeding babies stems from her own experience as a mother of three, as well as her role as a registered dietitian nutritionist. Simple & Safe Baby-Led Weaning is full of practical guidance backed by scientific research that will help all parents feel comfortable as they progress through the journey of feeding children. This is a must-have addition to a new parent's bookshelf!"—Jessica Levinson, MS, RDN, CDN, Culinary Nutrition Expert, and mom of two, JessicaLevinson.com

"Progressing past the baby food stage to solid food can be tricky to navigate, especially for new parents. Balancing the need for healthy foods with the threat of choking can be daunting. Fear no more! Every parent will be empowered with more confidence following the safe, simple, and easy to use Simple & Safe Baby-Led Weaning by pediatric dietitian, mom, and expert, Malina Malkani. Loaded with tips, feeding guidelines, serving sizes, nutrition information, and suggested menus—this book belongs on every family bookcase."— Kathleen Zelman, MPH, RDN, LD, No Nonsense Nutrition, LLC, Director of Nutrition for WebMD