Behind the Lie: A Novel (Hardcover)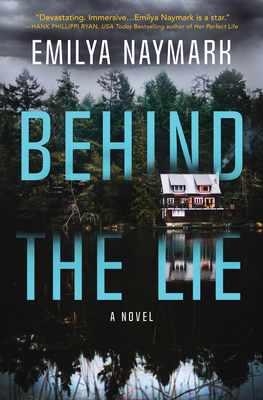 Description
---
NYPD detective turned small town PI Laney Bird is in a fight to save lives—including her own—when an explosion of deadly violence at a block party exposes the crimes simmering underneath her neighborhood's peaceful façade.

A transplant to the upstate New York hamlet of Sylvan, all Laney wants is a quiet life for herself and her son. But things rarely remain calm in Laney's life.
When one neighbor, a Russian immigrant, is shot, and his Ukrainian wife disappears—along with Laney's best friend—at her neighborhood summer block party, Laney will need all her skills as a PI to solve a mystery that reaches far beyond her small town.

As people closest to Laney fall under suspicion, the local authorities, and her colleagues, question her own complicity. And then there's fifteen-year-old Alfie, her complicated, enigmatic son, obviously hiding something. Even as Laney struggles to bury evidence of her boy's involvement, his cagey behavior rings every maternal alarm.

Laney's personal life unravels as she's drawn into her friend's dark secrets, and she must ask herself: how far would a wife and mother go to keep her family from ruin? One woman's desperation is another's downfall, and with treachery blazing hot as the searing summer sun, Laney realizes she and Alfie are in danger and she must fight to save lives, her own and her son's included.
About the Author
---
Emilya Naymark is the author of the novel Hide in Place, book 1 in the Sylvan series starring PI Laney Bird. Her short stories appear in A Stranger Comes to Town, edited by Michael Koryta, Secrets in the Water, After Midnight: Tales from the Graveyard Shift, River River Journal, Snowbound: Best New England Crime Stories 2017, and 1+30: THE BEST OF MYSTORY. When not writing, Emilya works as a visual artist and reads massive quantities of psychological thrillers, suspense, and crime fiction. She lives in the Hudson Valley with her family.
Praise For…
---
Praise for Behind the Lie:
2023 AWARD NOMINEE, G.P. PUTNAM SUE GRAFTON MEMORIAL AWARD

"Naymark hits the rhythms of small-town life perfectly and maintains tension by alternating perspectives. Lisa Unger fans will want to take a look."
—Publishers Weekly, starred review

"Naymark kicks off with a bang."
—Kirkus

"This is a suspenseful and layered novel about lives in suburbia that possess some dark secrets. The level of the prose makes this a novel that is memorable. I highly recommend it."
—Nancy Bilyeau, bestselling author of The Blue

"How well do you know your friends, or your family, for that matter? How far will you go to hide secrets? Or betray the ones you love? Emilya Naymark's second installment featuring Ex-NYPD Detective Laney Bird starts with a bang (or a crash, rather) and never lets go… Naymark's flawless writing paints vivid portraits of strong, flawed women fighting for what they believe in and hold dear, no matter the consequences."
—Marco Carocari, award winning author of Blackout

"Behind the Lie delivers as a thriller on multiple levels. A great read that will make you want to keep the lights on - and wonder what secrets your own sweet neighbors are hiding."
—Tracee de Hahn, author of A Well-Timed Murder

"Combining action with emotional upheaval, Naymark gives us a crime novel for our times. Tense enough to take our mind off the challenges of 2022, but human enough for us to feel empathy for Laney and those closest to her. A touch of romance, or at least the potential for it, rounds out this dynamic page-turner.
Readers who love a book they can't put down will not be disappointed."
—Elena Taylor, author of All We Buried

"Emilya Naymark's BEHIND THE LIE is a page-turner. Be prepared to settle in and enjoy the ride! For those looking for a satisfying read that will keep you engaged from start to finish, I can definitely suggest BEHIND THE LIE by Emilya Naymark."
—Cyrus Webb, author and radio host of Conversations Radio Network

"Page Turner Thriller With Great Character Development. Mesmerizing, thrilling and beautifully written. Sometimes thrillers sacrifice the sentence level writing for a good story but Naymark delivers the whole package. Haunting imagery, a compelling tale full of tension, and nuanced characters. I can't wait to see what she writes next."
—Jordan Rosenfeld, author of How to Write a Page Turner and Women in Red

"Devastating. Immersive. And somehow, still redemptive. In Emilya Naymark's deceptively charming neighborhood--a dark and ugly secret lurks behind every door.  And when two women go missing, the clash between the duties of a private investigator and the responsibilities of a parent explode into a series of impossible decisions.  A brilliant and tense mystery with heartbreaking characters--and a gasp-worthy solution. Do not miss this! Emilya Naymark is a star."
—Hank Phillippi Ryan USA Today Bestselling author of Her Perfect Life

Praise for Hide in Place:
"Crammed with suspense . . . A great read!"
—Andrea Kane, New York Times bestselling author of the Forensic Instinct series

"This is a debut novel not to be missed, in particular for readers of Harlan Coben and Carol Goodman."
—Nancy Bilyeau, bestselling author of Dreamland

"Deft plotting, fully drawn characters, and terrific dialogue."
—Russell Rowland, critically acclaimed author of Cold Country
 
"A page-turning thriller . . . Impossible to put down, Emilya Naymark's debut will leave readers hungry for more."
—Jordan Rosenfeld, author of How to Write a Page Turner and Women in Red

"Hide in Place grabs you from page one."
—David Rothenberg, WBAI Radio NYC

"An original, satisfying roller-coaster ride for domestic suspense fans."
—Publishers Weekly

"Heaps of praise to author Naymark...A captivating story."
—New York Journal of Books

"A solid thriller with a good leading character for series."
—Red Carpet Crash