Silver Alert (Paperback)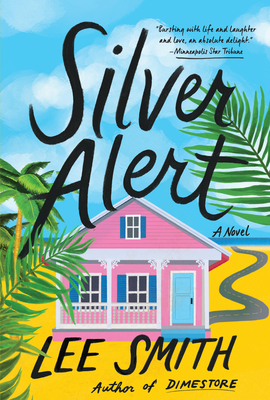 $17.99

Coming Soon - Available for Pre-Order Now
Description
---
This funny and endearing novel of family, secrets, and aging follows an elderly man who heads off on a joyride with a new young friend—who may have some secrets of her own.

A driving force in literature, the one and only Lee Smith returns with a road trip novel, a story full of hope and humor about not going away quietly—at any age.

Aging Herb's charmed life with his dear wife, Susan, in their Key West house is coming undone. Susan now needs constant care, and Herb is in denial about his own ailing health. The one bright spot is the arrival of an endlessly optimistic manicurist calling herself Renee. She sings to Susan during manicures, gets her to paint, and brings her a sense of contentment.

But then Herb and Susan's adult children arrive to stage an intervention on their stubborn, independent father, and as a consequence, Renee's gig with Susan—and her grand plans for her own life—start to unravel as well. So much had seemed as if it could change for Renee, who is not the happy, uncomplicated young girl she pretends to be. She is actually named Dee Dee, and she's fleeing a dark past.

And Herb can't just let go of all that he has ever had. So, he suggests one last joy ride in his Porsche. And the two take off north out of Key West, soon setting off a Silver Alert. As the unlikely friendship between Herb and Dee Dee deepens, we see how as one life is closing down, another opens up.

In this buoyant novel, the masterful Smith asks: What do we deserve? And how do we make it our own? Sometimes, you just have to seize the wheel.

Fans of Smith's many books in her storied, bestselling career won't want to miss her newest novel. And readers of novels like Evvie Drake Starts Over by Linda Holmes will adore Silver Alert.
 
About the Author
---
Lee Smith began writing stories at the age of nine and selling them for a nickel apiece. Since then, she has written seventeen works of fiction, including Fair and Tender Ladies, Oral History, Guests on Earth, and most recently, Dimestore. She has received many awards, including the North Carolina Award for Literature and an Academy Award in Fiction from the American Academy of Arts and Letters; her novel The Last Girls was a New York Times bestseller as well as winner of the Southern Book Critics Circle Award.
 
Praise For…
---
"Silver Alert is Lee Smith at the top of her game, and that is a high bar indeed. It's brilliantly paced with some of the most energetic prose I've ever had the pleasure of reading. The characters of Herb Atlas and Dee Dee are a pair for the ages, who you will long remember after the fall of the last page."—David Baldacci, author of Dream Town

"There are many ways to read Lee Smith's excellent new novel Silver Alert, but I view it as the toll old age has taken on her characters, with all its indignities and absurdities, as well as a wry view of America itself. Staged in iconic Key West, the improviser's Paradise, it's an implied prayer for our expressing kindness in gestures large and small."—Ann Beattie, author of The Accomplished Guest

"Lee Smith's Silver Alert doesn't just soar.  It seems at times to defy the laws of literary gravity.  That a book so full of hope should emerge right now is truly remarkable."  —Richard Russo, author of Empire Falls and Chances Are….

"This hilarious, timely and emotional novel will reframe the way you think about the golden years. Herb and Renee's friendship leads to a high-octane twist that will leave you breathless. Silver Alert is a shimmering arrow that aims straight for the heart." —Adriana Trigiani, author of The Good Left Undone

"Smith skillfully pivots from wry humor to real tenderness toward her quirkily engaging characters. Beneath the novel's occasionally frothy surface beats a compassionate, generous heart. A warmhearted story of improbably matched characters trying to reclaim their lives."—Kirkus Reviews

"Likely to resonate with fans of Marian Keyes, Lynda Rutledge, and Andrew J. Graff, Smith's novel is an incisive and heartwarming exploration of life's fragile phases."—Booklist