Lark Ascending (Hardcover)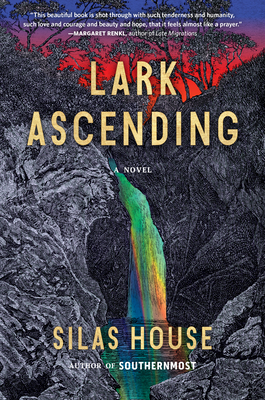 Staff Reviews
---
In the near future, the United States has burned to the ground. Our narrator is escaping America to a "promised land" in Ireland. It is a perilous journey where only he survives. In the second part of the novel, we learn of his time in Maine, off the grid, with his family and another composed of Phoebe, Sera, and Arlo. We learn quickly that he is in love with Arlo. This is accepted by the two families but tragedy is in their future. Arlo arrives in Ireland alone and makes a family with a beautiful dog Seamus and a fierce woman named Helen. They are in search of Glendalough, a land that is considered a "thin place" of which his mother spoke often. Many travails follow them on this journey. We know they arrive and that they spend their lives as a family.
— Valerie
October 2022 Indie Next List
---
"In a near future that seems closer and closer to becoming a reality, Lark Ascending follows Lark as he survives ordeal after ordeal. Silas House manages to imbue Lark's story with humanity and hope. This will stick with you for a long time."
— Chelsea Bauer, Union Avenue Books, Knoxville, TN
Description
---
"This beautiful book is shot through with such tenderness and humanity, such love and courage and beauty and hope, that it feels almost like a prayer." —Margaret Renkl, author of Late Migrations

A timely, powerful story of survival set in the not-too-distant future, reminding us to always hold on to hope, even in the worst of times.
 
With fires devastating much of America, Lark and his family first leave their home in Maryland for Maine. But as the country increasingly falls under the grip of religious nationalism, it becomes clear that nowhere is safe, not just from physical disasters but also persecution. The family secures a place on a crowded boat headed to Ireland, the last place on earth rumored to be accepting American refugees.
 
Upon arrival, it turns out that the safe harbor of Ireland no longer exists either—and Lark, the sole survivor of the trans-Atlantic voyage, must disappear into the countryside. As he runs for his life, Lark finds two equally lost and desperate souls: one of the last remaining dogs, who becomes his closest companion, and a fierce, mysterious woman in search of her lost son. Together they form a makeshift family and attempt to reach Glendalough, a place they believe will offer protection. But can any community provide the safety that they seek?
 
Lark Ascending is a moving and unforgettable story of friendship and bravery, and even more, a story of the ongoing fight to protect our per­sonal freedoms and find our shared humanity, from a writer at the peak of his powers.
About the Author
---
Silas House is the New York Times bestselling author of seven novels, one book of creative nonfiction, and three plays. His writing has appeared in the New York Times, the Atlantic, the Advocate, Time, Garden & Gun, and other publications. A former commentator for NPR's All Things Considered, House is the winner of the Nautilus Award, the Storylines Prize from the NAV/New York Public Library, an E. B. White Honor, and many other awards.
 
Praise For…
---
"In Lark Ascending, Silas House casts an irresistible spell, conjuring a near future that is both familiar and unbearable, illuminating the brutality and suffering that our own thoughtless age seems determined to invoke. But Lark Ascending is not merely, or even mainly, a tale of pain and grief. This beautiful book is shot through with such tenderness and humanity, such love and courage and beauty and hope, that it feels almost like a prayer."
 
—
Margaret Renkl, author of Late Migrations and Graceland, At Last
"Silas House has always served as an ancestor from the past who has stepped into the present with rich lessons in tow. But with Lark House reveals himself to be an oracle from the future who has come back to illuminate our lived moment with a snapshot of what the years ahead could hold. The vision is terrifying and spare, but in House's capable and delicate telling, it is also beautiful and compelling. Lark marks a stunning turn in House's career, taking him from the Appalachian Mountains to a post-apocalyptic Atlantic crossing, but I have no doubt that readers will follow Silas House wherever he goes, whether into the past or headlong into the future."
—
Wiley Cash, New York Times bestselling author of When Ghosts Come Home
"A postapocalyptic epic that is quiet and lyrical…an emotional testament to the power of hope."—
Booklist (starred review)
"A fiercely visceral reading experience."—
Publishers Weekly
"A cleareyed and engaging apocalyptic yarn."—
Kirkus Reviews
"The not-too-distant dystopia of House's latest becomes a vehicle for the author to tell a compelling story about a refugee crisis. Because House takes the story out of a contemporary context, readers can more easily empathize with the novel's refugees rather than focusing on real-world quandaries."—
Library Journal
"Silas House's "Lark Ascending" is a dystopian classic, finding new notes of peril and possibility in the once-and-future homeland of Ireland and giving us the kind of richly observed alternative family that humanity of any era would call savior. It also has the best dog ever, excepting my own. Don't miss this one."—
Louis Bayard, author of Jackie and Me
"I was sucked into this urgent story where survival in the not-too-distant future depends on forging connections with strangers and nurturing tenderness and hope within. An essential, heartbreaking but ultimately uplifting read."—
Michelle Gallen, author of Factory Girls
"Just astonishing . . .terrifying, moving, beautiful, instructive, and haunting. I have never been more deeply moved by a novel."—
Lee Smith, author of Dimestore
"With 
Lark Ascending
, the gifted Silas House has, with the most deft and masterful touches, forged a quite terrifying and all-too-plausible glimpse of our near future and somehow imbued it with almost impossible quantities of poetry and humanity. A gripping story of endurance, suffering and loss, but also of overwhelming love, loyalty and hope, the result is a hugely impressive feat of the imagination . . . A beautiful, haunting piece of work, and a compulsive read." —
Billy O'Callaghan, author of Life Sentences and The Dead House