Dead Flip (Hardcover)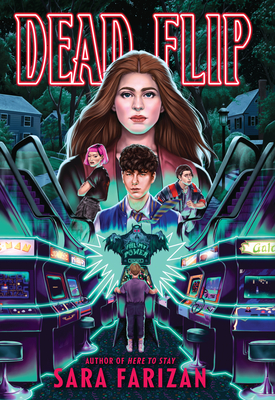 Description
---
In this "terrifyingly fun" (New York Times) horror comedy two friends must solve the mystery of their long-missing former friend's supernatural reappearance—perfect for fans of Stranger Things.
Growing up, Cori, Maz, and Sam were inseparable best friends, sharing their love for Halloween, arcade games, and one another. Now it's 1992, Sam has been missing for five years, and Cori and Maz aren't speaking anymore. How could they be, when Cori is sure Sam is dead and Maz thinks he may have been kidnapped by a supernatural pinball machine?  
These days, all Maz wants to do is party, buy CDs at Sam Goody, and run away from his past. Meanwhile, Cori is a homecoming queen, hiding her abiding love of horror movies and her queer self under the bubblegum veneer of a high school queen bee. But when Sam returns—still twelve years old while his best friends are now seventeen—Maz and Cori are thrown back together to solve the mystery of what really happened to Sam the night he went missing. Beneath the surface of that mystery lurk secrets the friends never told one another, then and now. And Sam's is the darkest of all . . .  
Award-winning author of
If You Could Be Mine
and
Here to Stay
Sara Farizan delivers edge-of-your-seat terror as well as her trademark referential humor, witty narration, and insightful characters.  
About the Author
---
Sara Farizan is an Iranian American writer, avid culture vulture, and ardent basketball fan who was born in and lives near Boston. The award-winning author of If You Could Be Mine and Here to Stay, she has an MFA from Lesley University and a BA in film and media studies from American University. Dead Flip is her fourth novel.
Praise For…
---
"A terrifyingly fun read."—
The New York Times
"In this well-crafted homage to narratives like
It
and
Stranger Things
, Farizan nails the uneasiness of shifting adolescent relationships... A fumbling queer romance and the pitch-perfect late-October setting create a bittersweet tone that makes this book a great choice for stalwart horror fans and newcomers to the genre."—
Booklist, Starred review
"A thoughtful homage that puts its own fresh spin on these beloved tropes. Entertaining supernatural thrills and an insightful take on growing up."
 —
Kirkus Reviews
"Farizan recalls 
Jumanji's
eerie atmosphere in this nostalgic, supernatural thriller... Farizan skillfully blends lighthearted comedy with grotesque horror."—
Publishers Weekly
"With the 1990s making a cultural comeback, and perennial interest in throwback horror, such as
Stranger Things
, younger teens will dig into this sinister story."—
School Library Journal
"A thoughtful thriller along with some very realistic surprises… If you are a fan [of
Stranger Things
], you will enjoy
Dead Flip
."—
Locus
"I was expecting just a kind of scary and humorous book that would be a fun read, but it tackled a lot of issues that I was not expecting to come from a book about an evil pinball machine.... This book was extremely fun to read with its many interesting quirks, but what really made it enjoyable to read was the wonderful character development and regrowing friendship."
—
Teen Librarian Toolbox
,
School Library Journal