Wild Houston: Explore the Amazing Nature in and around the Bayou City (Wild Series) (Paperback)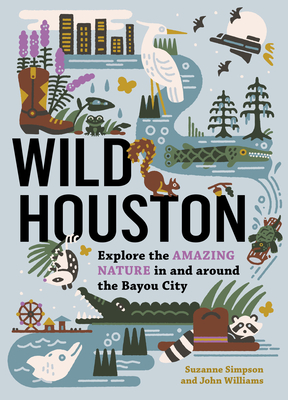 Description
---
This vibrant, informative guide shows the unexpected and amazing nature in Houston and the surrounding area just waiting to be explored.
Houston is more than just a bustling metroplex, it's full of amazing wildlife. You just need to know where to find it! Equal parts natural history, field guide, and trip planner, 
Wild Houston 
has something for everyone. This handy yet extensive guide looks at the factors that shape local nature and profiles over 100 local species, from the Barred Owl and the Western Rat Snake to the Houston Burrowing Crayfish, the Rainbow Scareb, and the Nine-banded Armadillo. Also included are descriptions of day trips that help you explore natural wonders on hiking trails, in public parks, and in your own backyard. 
About the Author
---
Suzanne Simpson is a Houston-based ecologist working to protect the natural landscapes that define Texas. She maintains certification as a professional ecologist from the Ecological Society of America and is a trained Texas Master Naturalist. Her favorite moments outdoors include hiking with her hound and finding snakes, but not at the same time.

John Williams is a sixth-generation Texan, born and raised in Victoria. He works with one of Texas' premier environmental and restoration companies as a lead biologist to support biological studies, threatened and endangered species assessments, environmental planning, and stream/wetland mitigation. A long-time member of the East Texas Herpetological Society, his photos have appeared in several natural history books and journals.