Surviving Dresden: A Novel about Life, Death, and Redemption in World War II (Hardcover)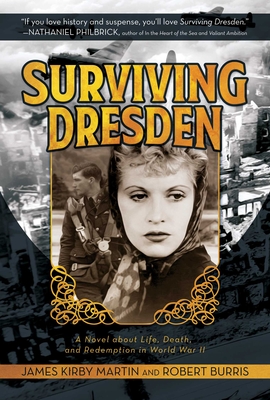 Description
---
Surviving Dresden beautifully portrays the poignant and inspiring human struggle between good and evil in the search for peace during the last bloody days of World War II.

On the ground that horrific night is a courageous young Jewish woman, Gisela Kauffmann. Having just received orders to be herded off to a concentration camp, Gisela will do anything to save herself and her family. In the air, RAF bomber Captain Wallace Campbell is torn between his sworn military duty to bomb an unarmed city crowded with refugees, and his growing conviction that total war is immoral.

Surviving Dresden is told through the eyes of Gisela, Wallace, and a compelling cast of characters—a story of personal pain and suffering amid the hope, even as the bombs are falling, of restoring human sanity to a world torn apart.

Masterfully sweeping, Surviving Dresden explores the depths of human courage in facing life and death, with human redemption triumphing.

"An evocative, inventive tale of war and moral judgment. Surviving Dresden vividly brings to life one of the most controversial episodes of the Second World War."
—Rick Atkinson, Pulitzer Prize winning author of the World War II Liberation Trilogy

"An incredibly suspenseful, powerful story with a redemptive ending. Deserves a wide reading audience, even serious consideration for the big screen. Happy to offer my highest recommendation."
—Frank Price, Former Chairman and CEO, Columbia Pictures, and Former President, Universal Pictures
About the Author
---
James Kirby Martin's academic teaching career includes stops at Rutgers University, the University of Houston, The Citadel, and the United States Military Academy at West Point. He is the author or editor of fourteen books, including Benedict Arnold, Revolutionary Hero: An American Warrior Reconsidered; A Respectable Army: The Military Origins of the Republic 1763-1789; Forgotten Allies: The Oneida Indians and the American Revolution; and Insurrection: The American Revolution and Its Meaning. Among his professional activities, Martin has served as an historian consultant to the Oneida Indian Nation of New York and a book series advisory editor to Oxford University Press, New York University Press, and Westholme Publishers.

Bob Burris has been a guiding force behind such high profile network television shows as Warner Brothers' Growing Pains. As a feature film writer and producer, Burris has written and produced a number of successful, inspirational projects. He has worked extensively with the Warner Bros. Writer's Workshop, nurturing and developing aspiring television and screenwriters, teaching craft and helping them shape their work.
Praise For…
---
"If you love history and suspense, you'll love Surviving Dresden."
— Nathaniel Philbrick, author of "In the Heart of the Sea" and "Valiant Ambition"

"An evocative, inventive tale of war and moral judgement. Surviving Dresden vividly brings to life one of the most controversial episodes of the Second World War."
— Rick Atkinson. Pulitzer Prize winning author of the World War II Liberation Trilogy

"An incredibly suspenseful, powerful story with a redemptive ending. Deserves a wide reading audience, even serious consideration for the big screen. Happy to offer my highest recommendation."
— Frank Price, Former Chairman and CEO, Columbia Pictures, and Former President, Universal Pictures

"Surviving Dresden is a beautifully crafted, historically rich work of fiction that views the approaching Dresden calamity, day-by-day, through the eyes of a riveting cast of characters.... A wonderful read about a truly haunting human story."
— David M. Oshinsky, Pulitzer Prize Winning Author of "Polio: An American Story"

"In a gripping a compelling story, Martin and Burris have made us see the firebombing of Dresden, feel the fright of Gisela as escape eludes her, grieve with Wallace as he struggles over killing civilians, and marvel at Albert as he risks all time and again. A tale—and a history—of heroism, endurance, and courage, not to be missed."
— Alice Joyner Irby, author of "South Toward Home: Tales of an Unlikely Journey"

"Surviving Dresden offers a moving and insightful story of one of the great human tragedies in human history, told from the point of view of those who lived through it. A compelling read."
— Edward G. Lengel, Chief Historian at the National Medal of Honor Museum

"I cannot recommend too highly this compelling story, wonderfully told, about the perilous risks of life and death in Dresden during World War II. Truly an eye-opening, riveting historical novel."
— David M. Rubenstein, Co-Chairman, The Carlyle Group

"Step aside, Billy Pilgrim. Surviving Dresden exceeds Kurt Vonnegut's Slaughterhouse-Five in capturing war and its aftermath with depth and nuance."
— Robert McDonald, Professor of History, United States Military Academy, West Point

"Martin and Burris have produced one of the best historically-based World War II novels in a generation—or more. Fast-paced, Surviving Dresden is a must-read about how this horrible conflict adversely affected so many lives during the search for peace and an end to the killing in war-torn Europe."
— Charles Neimeyer, Professor, Naval War College, Fleet Support Program/Director, Marine Corps History (ret.)

"A gripping tale of love and despair told with historical accuracy always in mind. This is a must-read for all those who enjoy a great story and want to see the history of World War II from a new perspective. This is historical fiction at its finest!"
— Seanegan Sculley, author of "Contest for Liberty"

"'Thrilling' is the right word to describe this compelling, action-packed, character-driven, historical novel. The war scenes are particularly vivid, mixed poignantly together with a fascinating cast, including lead protagonists Gisela Kauffmann and Wallace Campbell. The amount of research factored into this novel is quite impressive. Surviving Dresden is destined to be a classic work of historical fiction."
— Rachel Hoge, editor and author

"Surviving Dresden beautifully captures the role of air power in seeking to bring an end to World War II in Europe, a conflict that once under way, struggled to stop the massive destruction of peoples and places amid amazing stories of unexpected human survival. A gripping read from beginning to end."
— Randy Roberts, Distinguished Professor, Purdue University, and author of "A Team for America: The Army-Navy Game That Rallied a Nation"