An Elderly Lady Must Not Be Crossed (Hardcover)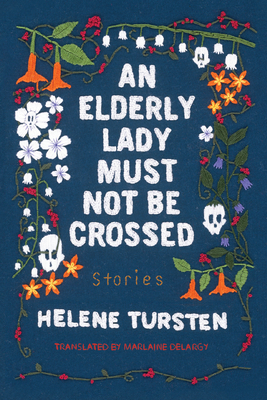 Staff Reviews
---
The second book after An Elderly Lady Is Up to No Good shows Maud reminiscing while traveling back to South Africa from her home in Sweden. She's taking a luxury tour this time over Christmas; convenient timing as the detectives that were investigating her past murders are getting a little too close for her comfort. She remembers people who passed through her life and she meets others on her trip. Through her stories and experiences, we see that Maud is more a caring person than she would have others believe, even though her caring sometimes results in her 'removing' some of the people that cause her inconvenience. Bonus: There is even Maud's Christmas Gingerbread cookie recipe included at the end!
— Sandra
October 2021 Indie Next List
---
"What a hoot! Maud might be almost 89 years old, but she's no shrinking violet. She knows how to take care of herself and situations that need fixing. I loved this little treasure of a book!"
— Annette Steinmetz, The Well-Read Moose, Coeur d'Alene, ID
Description
---
Don't let her age fool you. Maud may be nearly ninety, but if you cross her, this elderly lady is more sinister than sweet. 

Just when things have finally cooled down for 88-year-old Maud after the disturbing discovery of a dead body in her apartment in Gothenburg, a couple of detectives return to her doorstep. Though Maud dodges their questions with the skill of an Olympic gymnast a fifth of her age, she wonders if suspicion has fallen on her, little old lady that she is. The truth is, ever since Maud was a girl, death has seemed to follow her.

In these six interlocking stories, memories of unfortunate incidents from Maud's past keep bubbling to the surface. Meanwhile, certain Problems in the present require immediate attention. Luckily, Maud is no stranger to taking matters into her own hands . . . even if it means she has to get a little blood on them in the process.

*Includes cookie recipes*
About the Author
---
Helene Tursten was a nurse and a dentist before she turned to writing. She is the author of the Irene Huss series, including Detective Inspector Huss, Night Rounds, Who Watcheth, and Protected by the Shadows; the Embla Nyström series; and the short story collection An Elderly Lady Is Up to No Good, which also features Maud. Her books have been translated into 25 languages and made into a television series. She was born in Gothenburg, Sweden, where she now lives with her husband.
Praise For…
---
Praise for An Elderly Lady Must Not Be Crossed

An October 2021 Indie Next Selection
An ABA Indie Bestseller

"Tursten effectively juxtaposes a cozy, Agatha Christie–like tone against the often surprisingly dark nature of Maud's recollections, which are rife with clever satirical jabs and delicious ironies. This absorbing dive into the mind of a ruthless pragmatist posing as a Swedish Miss Marple will please psychological-thriller fans, once they realize that Maud isn't nearly as cozy as she looks."
—Booklist, Starred Review

"Swedish crime novelist Tursten's second book featuring 88-year-old Maud takes up right where An Elderly Lady Is Up to No Good left off. Maud plays a doddering, senile old lady when it suits her purposes, but she's actually in perfect health with a sharp and cunning mind—handy for plotting and getting away with murder . . . Readers may find themselves rooting for her to get away with it all and will also appreciate the bonus gingerbread recipe." 
—Library Journal

"It's murder done out in the open, often with witnesses, but author Helene Tursten's main character is crafty; with Rube-Goldberg-esque contraptions and contrivances, there's a different method to Maud's madness every time and she's deliciously, curmudgeonly gleeful about literally getting away with murder. Even better, inside the body of Tursten's senior citizen, there's a true and talented actress with steely nerves, a delightfully twisted mind and absolutely zero patience for fools—making this dark novel clever and very, very fun to read . . . If you're looking for something sharply sinister, An Elderly Lady Must Not Be Crossed must be remembered." 
—The Yankton Daily Press & Dakotan

"In delightfully creepy steps, Maud develops her murderous personality through this set of six revelatory narratives . . . Marlaine Delargy's translation never gets in the way of the action in Tursten's stories . . . a dandy holiday gift, pocket size, darkly light-hearted, and a quick and easy introduction to the tongue-in-cheek side of one of today's leading Swedish crime novelists." 
—Kingdom Books

"I'm hoping that we might hear from this little old lady at least one more time." 
—Kittling Books

"The six linked stories in Swedish author Tursten's delightful sequel showcase the ingenious murder methods that Maud, an idiosyncratic octogenarian with questionable motives, has devised over the years . . . Assured prose matches an irresistible heroine. Readers are sure to welcome a third entry in this beguiling series."
—Publishers Weekly

"A guidebook to growing old without a single regret for victims who deserved just what they got."
—Kirkus Reviews

Praise for An Elderly Lady Is Up to No Good

An ABA IndieNext Selection

"[A] deliciously noir short story collection . . . Tursten takes readers deep inside Maud's head as she plots the demise of anyone who crosses her . . . Here's hoping Tursten brings back the flinty homicidal octogenarian for more adventures."
—Tina Jordan, The New York Times

"Witty . . . All pay the ultimate price for outraging this dangerous octogenarian. Will the police ever realize that sweet, frail, confused old Maud is in fact sharp as a tack and just as ruthless?"
—The Wall Street Journal

"Eighty-eight-year-old Maud, a Swedish cult favorite, freely dispatches greedy neighbors, selfish lovers, and potential thieves in four linked stories that push elderly empowerment to grimly funny heights in this Swedish cult favorite."
—The Boston Globe

"This elderly lady stops at nothing in her desire for a peaceful existence. I ought to feel guilty for enjoying her crimes, but I don't. The stories are written with such persuasive logic and delicious irony that I want the killing to continue indefinitely."
—Peter Lovesey, Mystery Writers of America Grand Master

"Darkly engaging . . . The murders Maud pulls off are meticulously plotted and executed, and one of the pleasures of the stories lies in watching Maud in action."
—The Toronto Star

"The juxtaposition of the way Maud presents in the world, as elderly, somewhat frail, and what she is capable of doing when she is thwarted makes for a really intriguing read that is often laugh out loud funny."
—Lily Bartel, WAMC's The Roundtable

"A petite, deliciously dry set of short stories . . . grab this one as a stocking-stuffer for the mystery lover on your list."
—The News & Observer

"Deliciously dark . . . Imagine a ticked-off Miss Marple with the conscience of Patricia Highsmith's Ripley and the cold-blooded pragmatism of Jack Reacher."
—Mystery Scene

"Relying on the invisibility of age, using her walkers as a weapon, and seeming dementia as a defense, Maud systematically eliminates all annoyances . . . delightful."
—Deadly Pleasures

"Delightfully grim and howlingly funny . . . Maud's no apple-cheeked little Granny."
—Quad City Times

"Tursten is best known for the hard-boiled Detective Inspector Irene Huss series of novels. However, the comic twists and turns she delivers in this compact collection are equally engrossing. Unassuming, murderous Maud—with her devious, pseudo-innocent charm—makes these concise stories wickedly funny and addictively readable."
—Shelf Awareness

"The perfect size for stowing in your handbag with your hard candies and spare garrote wire."
—Literary Hub

"If you're into crime stories, dark humor, and want it centered around an octogenarian, run to this collection."
—Book Riot

"Dark, irreverent, and hilariously funny."
—Booklist, Starred Review

"Exceptional . . . Readers will be amused by how sharp-as-a-tack Maud plays the forgetful, fuzzy-brained old lady to achieve her ends."
—Publishers Weekly, Starred Review