The Bangalore Detectives Club: A Novel (Paperback)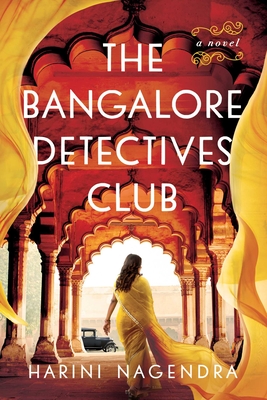 $16.95

Usually Ships in 4-7 Days
Description
---
A New York Times Notable Book of the Year

The first in a charming, joyful crime series set in 1920s Bangalore, featuring sari-wearing detective Kaveri and her husband Ramu. Perfect for fans of Alexander McCall Smith's The No. 1 Ladies Detective Agency.

When clever, headstrong Kaveri moves to Bangalore to marry handsome young doctor Ramu, she's resigned herself to a quiet life.

But that all changes the night of the party at the Century Club, where she escapes to the garden for some peace and quiet—and instead spots an uninvited guest in the shadows. Half an hour later, the party turns into a murder scene.

When a vulnerable woman is connected to the crime, Kaveri becomes determined to save her and launches a private investigation to find the killer, tracing his steps from an illustrious brothel to an Englishman's mansion. She soon finds that sleuthing in a sari isn't as hard as it seems when you have a talent for mathematics, a head for logic, and a doctor for a husband . . .

And she's going to need them all as the case leads her deeper into a hotbed of danger, sedition, and intrigue in Bangalore's darkest alleyways.
About the Author
---
Harini Nagendra is a professor of sustainability at Azim Premji University, Bangalore, India. She has received the Elinor Ostrom Senior Scholar Award as well as the Cozzarelli Prize with Elinor Ostrom from the Proceedings of the U.S. National Academy of Sciences for research on sustainability. The Bangalore Detectives Club and Murder Under a Red Moon, the first two novels in the Bangalore Detective Club mystery series, are available from Pegasus Crime.
Praise For…
---
"The first in an effervescent new mystery series by the ecology professor Harini Nagendra, The Bangalore Detectives Club turns the clock back a century. This is a treat for historical mystery lovers looking for a new series to savor (or devour)."
— Sarah Weinman

"Set in colonial India in 1921, this debut mystery, the first in a projected series, makes full use of the oppressive British rule of the time, matched by the oppressive treatment of women, to highlight the ingenuity and bravery of a young woman determined to solve a murder. Nagendra's evocation of setting is riveting, and her use of colonial history is thoroughly fascinating, with devastating depictions of the airy condescension of the British. A fine start to a promising series."
— Booklist (starred)

"Nagendra (Cities and Canopies: Trees in Indian Cities) makes her fiction debut with an exceptional series launch. By placing her intelligent and clear-eyed protagonists in the multilayered and multicultural milieu of colonial India, Nagendra, a university professor in Bangalore, imbues this mystery with a rich, edifying, and authentic feel. Readers will hope Kaveri and Ramu will be back soon."
— Publishers Weekly (starred)

"For historical mystery and cozy mystery fans, armchair travel to 1920s Bangalore, where newly married Kaveri ends up at a party that instead turns into a murder mystery. Soon she's investigating the case herself using her logical brain, talent for mathematics, and the medical expertise of her husband."
— Book Riot, "The Best Mystery, Thriller and True Crime Books Out in May"

"Told with real warmth and wit, in The Bangalore Detective Club, Harini Nagendra has created an intricate and fiendish mystery with a wonderful duo of amateur sleuths Kaveri and Ramu at its heart, and capturing the atmosphere and intensity of Bangalore in the roaring twenties. I can't wait for the next installment. A perfect read for fans of Alexander McCall Smith and Vaseem Khan."
— Abir Mukherjee, award-winning author of The Shadows of Men

"A classic whodunnit with the added appeal of a female sleuth in colonial India. For the Western reader, a fascinating glimpse into customs and a mindset very different from our own."
— Rhys Bowen, New York Times bestselling author

"From page one we plunge into the exuberant cacophony of 1920s Bangalore, right there beside Kaveri Murthy in her adopted city: the drawing-rooms and dirt lanes, the gardens and brothels, the temples and jails. Nagendra's depiction of an awkward but tender new marriage is a delight, and who couldn't help but cheer for Kaveri as she swims in her sari, studies in secret, and commits herself to the pursuit of justice?"
— Catriona McPherson, author of The Mirror Dance

"I absolutely adored The Bangalore Detectives Club, a beautifully painted picture of a woman's life in 1920s India. Kaveri is a compelling character, headstrong, clever and dogged, and not at all deterred by the constraints of her position and gender. A fantastic book."
— M. W. Craven, award-winning author of The Curator

"Harini Nagendra takes us to wonderfully unfamiliar world in this delightful debut mystery. Colonial India is on the verge of gaining its independence from the British, and new bride Kaveri Murthy is also looking to gain her independence from the strict culture in which she was raised. You will love watching her blossom as she makes new friends and strives to save an innocent woman from a charge of murder. I couldn't put it down."
— Victoria Thompson, USA Today bestselling author of City of Shadows and Murder on Madison Square

"The Bangalore Detective Club is a gorgeous debut mystery that introduces Kaveri Murthy, a young wife living a conservative household who applies her prodigious intelligence to solve a murder that threatens to tear apart genteel 1920s colonial Bangalore. Kaveri is a charming and fearless sleuth, trooping from elite social clubs to humble districts to ensure the right culprit is charged with murder. Nagendra brilliantly shares the landscape, social customs and history of South India in this spellbinding novel. I eagerly await the next Kaveri mystery."
— Sujata Massey, author of The Widows of Malabar Hill and The Bombay Prince

"Tantalizing and intriguing, The Bangalore Detective Club evokes the Golden Age of detective fiction with a romantic flair. In Kaveri Murthy, the lovely, impish and mathematically-inclined wife of Ramu, a Bangalore doctor, Nagendra offers readers a delightful amateur sleuth capable of drawing on the emerging forensics of the day to resolve a local murder. Throughout, Nagendra beautifully captures Bangalore in 1921, a city of contrasts, combining evocative period detail with insights into the social and political complexity of the region. A wonderful start to an enchanting new series!"
— Susanna Calkins, author of the award-winning Lucy Campion historical mysteries and the Speakeasy Murders

"This lush mystery will transport you to heady 1920s Bangalore, where new bride Kaveri stumbles into sleuthing—while dragging her doctor-husband into the fray. Mouth-watering fashion and food set against simmering colonial intrigue in this delicious whodunit can be devoured in one sitting."
— Sumi Hahn, author of The Mermaid from Jeju

"I loved The Bangalore Detectives Club mostly because I love Kaveri and Ramu and exploring 1920s Bangalore through their eyes. Kaveri especially is charming and practical and despite her age and inexperience (19 years old, newly wed and new to Bangalore) uses her position—as a doctor's wife and as a woman who can speak to women who wouldn't speak to a man—to clear an innocent and expose a murderer."
— Ovidia Yu, author of The Cannonball Tree Mystery

"The Bangalore Detectives Club is the latest entry into the recent flowering of India-based crime fiction. Nagendra's novel introduces us to Raj-era 1920s Bangalore and her calculus-loving amateur sleuth Kaveri Murthy. A cosy mystery that warmly illuminates a time and place not often examined in fiction."
— Vase Khan, CWA Historical Dagger winner and author of the Malabar House series and the Baby Ganesh Agency series

"Harini takes us on an enjoyable trip back in time with a spunky young woman for company. When the resourceful Kaveri surreptitiously plays amateur sleuth, we find that Bangalore of the 1920s is as full of deceit as it is of prejudices. Kaveri's insatiable curiosity is matched only by her determination as she throws off the shackles that fettered women a hundred years ago."
— R V Raman, author of A Will to Kill, A Dire Isle, and the four-book corporate thriller series set in India