Glimmerglass Girl (Paperback)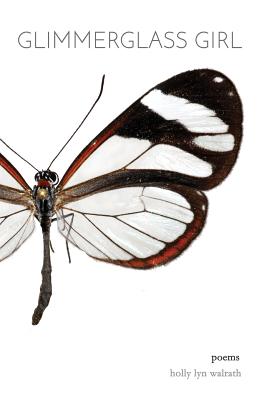 $17.99

Usually Ships in 4-7 Days
Description
---
Glimmerglass Girl is a collection of poetry and images about womanhood and femininity. This debut collection from author Holly Lyn Walrath explores life, love, marriage, abuse, self-harm, the body, death, and alcoholism through the lens of a woman's heart. It takes readers through a speculative and fantastical world of fairy tales and unicorns where femininity is as powerful and delicate as a glass-winged butterfly.
About the Author
---
Holly Lyn Walrath received her Master's degree in Creative Writing from the University of Denver. Her short fiction and poetry has appeared in Strange Horizons, Fireside Fiction, Liminality, Crab Fat Magazine, Mithila Review, Nonbinary Review, and other places. She works as a freelance editor and currently resides in Seabrook, Texas, just five minutes from NASA Johnson Space Center. She has two cats named Cleo and Panda and a husband who is a pediatric physical therapist. Along with writing, she enjoys geekery, books, self-aggrandizing statements, feminism, dystopia, and cat pictures.
Praise For…
---
". . . an intersection between ethereal loftiness, humorous speculation, and poignant consideration. . . a collection of poetry and images that encourage readers to be more than they perceive themselves to be." --VIDA: Women in the Literary Arts
​
"An ethereal collection of emotional gut-punches—Walrath delves into the hidden depths of womanhood with poems at once violent and delicately beautiful."
—Cassandra Rose Clarke, author of Star's End, Our Lady of the Ice, and The Mad Scientist's Daughter

"Glimmerglass Girl delights and chills the senses in equal measure, deceptively minute in its scope. Walrath challenges preconceived notions of feminine identity in these delicate, uncanny poems—and spares nobody, no body, in the process."—A.J. Odasso, Senior Poetry Editor, Strange Horizons
​"Glimmerglass Girl's beautiful verse pulls you in, entrances you and transports you--
​quite the worthwhile read!"
—Tonya Liburd, Senior Editor, Abyss & Apex

"Glimmerglass Girl elegantly captures a female journey eerily familiar, a reflection of me, or a lost relative to whom I have only now been introduced. Walrath's lush verse winds around perceptions, challenging them, guiding them back, like a skilled hand guides a toddler. Just as I start to learn to roll over, to sit up, to stand—her layered, linked verse invents new ways for me to understand
​the world I have lived in so long."
—Karen Bovenmyer, author of Swift for the Sun

"Washing the dishes, peeling an onion, wearing a bra, all these details of life become immersed in magic in Holly Lyn Walrath's gorgeous poems. In Glimmerglass Girl, the questions of how to be a woman and how to reconcile the different sides of our bodies and selves is brought into startling focus. Walrath's writing takes your breath away and then sucker punches you, but I mean this in the best possible way--these poems devastate, destruct, and then bring you back to life."
—Chloe N. Clark,
​author of The Science of Unvanishing Objects

"In her debut chapbook, Glimmerglass Girl, Holly Walrath's lyrical yet startling language explores the layered experiences of women. The flowing, ephemeral effects of poems like "Elegy for a Body," compliment the emotional accessibility of explorations of modern women's self-doubt such as "Self Portrait through an iPhone." Clever and moving illustrations provide the perfect finishing touch to Walrath's haunting collection. "
—Patricia Flaherty Pagan, ​author of Enduring Spirit​

​​"Tensile and luminous as a glass-winged butterfly, Glimmerglass Girl chronicles the passions of a woman's heart and its multifarious musings with a marvelous mix of toughness and tenderness. In a shimmering world at once 'honey-brimmed and buzzing,' where 'blueberry coffee' and a 'kissing prayer,' or a 'quiet mess of a body of light' offer diurnal delights, this wildly chimerical gathering of hybridized fairy tales and fabulous meditations on womanhood might carry Emily Dickinson's admonition of epistolary intimacy, 'open me carefully.' Indeed, readers should open Walrath's slender volume carefully, hold these rare poems up to the sun, then lean in quietly to hear each one sing in flight." —Karen An-hwei Lee, author of Phylo of Joy, Ardor, and In Medias Res.