The Man Who Saw Everything (Hardcover)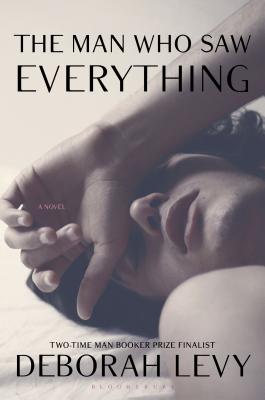 $26.00
Usually Ships in 1-5 Days
Staff Reviews
---
Man Booker finalist Levy's latest novel is a clever examination of how the human mind experiences memories and how past and present can converge. Saul Adler, the protagonist and narrator, is a bisexual narcissistic historian, specializing in Communist Eastern Europe. He suffers an accident in London as a 28-year old in 1988 and seems to experience the same exact accident 30 years later. As he lies in a hospital bed, he relives the intervening years and his disconnected relationships with significant people. It is the story of a self-centered man who gradually slips into a world of his own neurotic making. Great writing pulls you into the patterns of Saul's distorted thinking. Recommended.
— Alice
Description
---
Longlisted for the Booker Prize
A New York Times Editor's Choice
Named a Best Book of the Year By:
The New York Times Book Review (Notable Books of the Year) * The New York Public Library * The Washington Post * Time.com * The New York Times Critics' (Parul Seghal's Top Books of the Year) * St. Louis Post Dispatch * Apple * A Publisher's Weekly's Top Ten Books of the Year
An electrifying novel about beauty, envy, and carelessness from Deborah Levy, author of the Booker Prize finalists Hot Milk and Swimming Home.
It is 1988 and Saul Adler, a narcissistic young historian, has been invited to Communist East Berlin to do research; in exchange, he must publish a favorable essay about the German Democratic Republic. As a gift for his translator's sister, a Beatles fanatic who will be his host, Saul's girlfriend will shoot a photograph of him standing in the crosswalk on Abbey Road, an homage to the famous album cover. As he waits for her to arrive, he is grazed by an oncoming car, which changes the trajectory of his life.
The Man Who Saw Everything is about the difficulty of seeing ourselves and others clearly. It greets the specters that come back to haunt old and new love, previous and current incarnations of Europe, conscious and unconscious transgressions, and real and imagined betrayals, while investigating the cyclic nature of history and its reinvention by people in power. Here, Levy traverses the vast reaches of the human imagination while artfully blurring sexual and political binaries—feminine and masculine, East and West, past and present--to reveal the full spectrum of our world.
About the Author
---
Deborah Levy trained at Dartington College of Arts before becoming a playwright. Her plays include Pax, Heresies, Clam, Call Blue Jane, Shiny Nylon, Honey Baby Middle England, Pushing the Prince into Denmark and Macbeth-False Memories. She has also written some novels and was a Fellow in Creative Arts at Trinity College, Cambridge from 1989-1991.
Praise For…
---
"Deborah Levy's prose is light-handed and leaves a pleasant sting … in the new novel, Levy looks at masculinity through the point of view of Saul, a proud defector who sneers at 'authoritarian old men' like his father and the regimes they create, their dependence on walls, imaginative and real." - Parul Sehgal, The New York Times
"Levy, as evidenced in Hot Milk (2016) and Swimming Home (2011), is a master of the seemingly loose yet actually taut story... As in her previous books, Levy's prose in The Man Who Saw Everything is controlled, refractive, sharply intelligent. There's no wasted motion. Single sentences render character with the clarity, and cruelty, of a snapshot...Love is unsettling, Levy suggests, and so is time, and so is sexuality, and so is the self. The Man Who Saw Everything, in its ghostly play of personal and political histories, bears witness to this truth." - The Boston Globe
"In one short and sly book after another, [Levy] writes about characters navigating swerves of history and sexuality, and the social and personal rootlessness that accompanies both. If the themes sound weighty, Levy's elliptical fiction is the opposite, thanks in part to her wry appreciation of dramatic ironies at work. Her restless protagonists travel the Continent trying to forge an identity, only to discover that history has a way of laying traps for us—and also offering escapes when we least anticipate them. The Man Who Saw Everything, Levy's most stylistically complex novel yet. ... Levy's boldness, and her voice, are hard earned. ... Levy doesn't whisper in her fiction, but in her slim, elliptical books, she unspools big odysseys." - The Atlantic
"Elliptical, elusive and endlessly stimulating… The Man Who Saw Everything is a brilliantly constructed jigsaw puzzle of meaning that will leave readers wondering how much they can ever truly know." - The Washington Post
"Deborah Levy's novels are small masterworks of inlay, meticulously constructed. And The Man Who Saw Everything is perhaps her cleverest. But cleverness for its own sake is clearly not what interests her. Being human does. That is mystery enough, she repeatedly proves, as she tantalizes us with connections and secrets that seem to hover at the edge of our vision. Few writers, for example, can summon sadness with such force…Big ideas thud onto the page, like apples hitting the roof of that garden shed, but we hardly hear them. Deborah Levy makes us listen instead for the fragile rhythm of a breaking heart." - Wall Street Journal
"Haunting and effective…Irresistible." - Associated Press
"A work of philosophy and art... Each novel Man Booker finalist Deborah Levy writes comes nearer perfection." - New York Journal of Books
"Deborah Levy, one of the most intellectually exciting writers in Britain today, has produced in this perplexing work a caustically funny exploration of history, perception, the nature of political tyranny and how lovers can simultaneously charm and erase each other." - New York Times Book Review
"Levy's writing is playful, smart, and full of memorable lines." - NPR.org
"Levy's deceivingly slim books are crammed with allusions to her literary progenitors: Colette, Simone de Beauvoir, Marguerite Duras, but also Louise Bourgeois, Claude Chaun, and Cindy Sherman. For Levy is, above all, a visual writer, heaping image upon tantalizing image… Her novels are meticulously structured. They circle in on themselves, full of repetitions, allusions, and elisions whose logic unfailingly reveals itself at the end. With Levy, you are never quite sure of your footing. But she is… he experience of reading her is much like the jolt and pleasure of being submerged in water—resurfacing to find that the weather has turned." - The New York Review of Books
"Longtime readers of Levy's work will know that she's just as capable of voyaging into the surreal and uncanny as she is documenting the social and psychological mores of her characters… you have a sense of a writer who's capable of nearly anything… a writer whose work has crossed boundaries of format and genre." - Longreads
"Reading Deborah Levy's novels is a lesson in humility. She is a careful and intelligent writer with an absolute command of language, one who demands you not only to pay close attention, but also second-guess your immediate reactions and responses to her work. Her novels are deceptively slim in length, but supersized with profound ideas that defy preconceived notions and easy interpretations. The Man Who Saw Everything is just such a book, and reading it is the best possible sort of challenge" - Newsday
"A superbly crafted, enigmatic new story from an author of note…In a relatively short book, Levy spins an extraordinary web of connection, a dreamscape in which plangent images like a pearl necklace, a spilled drink, or the petals of a tree recur like soft chimes…Head-spinning and playful yet translucent, Levy's writing offers sophistication and delightful artistry. Levy defies gravity in a daring, time-bending new novel." - Starred Review, Kirkus Reviews
"Booker Prize–finalist Levy (Hot Milk) explores the fragile connections and often vast chasms between self and others in this playful, destabilizing, and consistently surprising novel… Levy's novel brilliantly explores the parallels between personal and political history, and prompts questions about how one sees oneself—and what others see." - Starred Review, Publishers Weekly
"The Man Who Saw Everything is bifurcated into two time periods: 1988 and 2016, but by Deborah Levy's deft hand and brilliant command of metaphor, the boundaries of space and time collapse. This is an extraordinary novel that captures the zeitgeist and specters of 20th-century Communism in such a way that far exceeds the 200 pages it is bound in." - Shelf Awareness
"Audacious… compelling … the book [has] an understated power, as we confront a writer working against expectation to subvert the conventions of the novel, to rethink the form on her own terms." - New Republic
"An evocative journey across a shape-shifting personal and political landscape. As Levy peels back each new layer of this at-times enigmatic story, there are new pleasures disclosed at every turn." - Bookpage
"There is no way to succinctly summarize this slim book and adequately convey how it manages to hold exquisitely actual multiverses within its pages… A brilliant, blistering, bold look at identity, relationships, and time; a perfect puzzle of a novel." - Nylon
"[An] utterly beguiling fever dream of a novel, which revisits aspects of Europe's authoritarian 20th-century history through the delirium of one man's shattered mind… Nominated for this year's Booker Prize, The Man Who Saw Everything is an intricate jigsaw, full of pieces that tantalizingly never quite fit together. . . In writing that is as clear as a stream yet also full of withheld meaning, Levy suggests that the grief and guilt inside Saul . . . is connected to Europe's legacy of persecution, paranoia, and totalitarianism." - Daily Telegraph
"Deborah Levy's intelligent and supple latest novel, The Man Who Saw Everything, recently longlisted for the Booker Prize… is stunningly disorienting, fascinating . . . the balance shifts through Levy's skillful, dizzying storytelling." - The Financial Times