Things Hidden: Scripture as Spirituality (Paperback)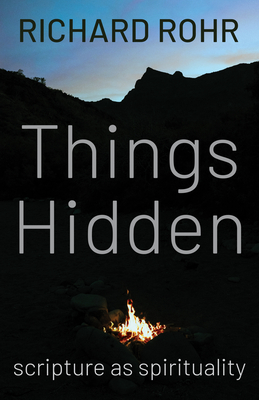 $21.99

Usually Ships in 4-7 Days
Description
---
There are a number of misconceptions about the Bible. Many look at it as information only, but what they are missing is the key - the Bible is about transformation. World renowned author Richard Rohr invites you to revisit the Bible to experience the Scripture as spirituality. This can help your relationship with God evolve into something more meaningful and fulfilling. This book will help you discover how reading the Bible and understanding it in a new way can change your life.
"Only when the two come together, inner and outer authority, do we have true spiritual wisdom. We have for too long insisted on outer authority alone, without any teachings of prayer, inner journey and maturing consciousness. The results for the world and for religion have been disastrous...I offer these reflections to again unite what should have been separated: Sacred Scripture and Christian Spirituality." - from the introduction.
This spiritual companion unearths the Bible's take on morality, power, wisdom, and the generosity of God in a way that demands a life-changing response from believers. It illustrates the Biblical God as full of grace and abundance, and who calls us to be fully alive in a world full of scarcity, judgement, and fear. Rohr's intention is to revitalize your relationship with the Bible and leave you feeling hopeful, fulfilled, and better able to embody a Christ-based spirituality. This in turn will help you to change how you treat yourself, others, and the world.
About the Author
---
Richard Rohr is a globally recognized ecumenical teacher whose work is grounded in Christian mysticism, practices of contemplation and self-emptying, and compassion for the marginalized. He is a Franciscan priest of the New Mexico province and founder of the Center for Action and Contemplation in Albuquerque, where he also serves as academic dean of the Living School for Action and Contemplation. Fr. Richard is the author of many books, including the bestsellers Just This, What Do We Do with Evil?, The Universal Christ, and The Wisdom Pattern.