Why I Hate Green Beans (Library Edition): And Other Confessions About Relationships, Reality TV, and How We See Ourselves (CD-Audio)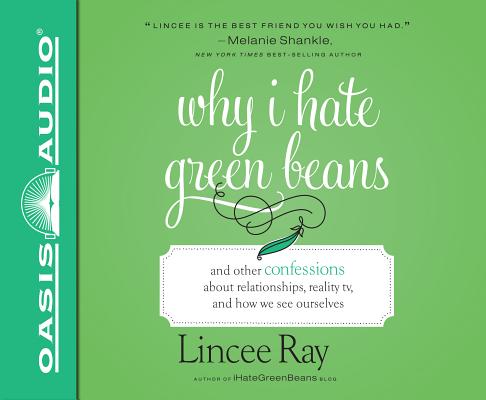 Description
---
If there is one thing Lincee Ray has learned over the years, it's that the majority of women on the planet struggle with insecurities. Our skinny jeans mock us. Our just-trying-to-help mothers are just driving us crazy. Our social media feeds taunt us with everyone else's picture-perfect lives. It's enough to send you on a gummy-bear bender while binge-watching Friends reruns and not showering for a week. Lincee knows. She's been there. Right there, in fact. Gummy bears and all.

For every woman who's ever wondered if she's unlovable, uninteresting, or unattractive, Lincee offers her particular brand of hilarious (and hard-hitting) self-reflection. Like a true friend, she shows us that the fastest way to happiness is to embrace ourselves in all our imperfection, trust that God knew what he was doing when he made us, and maybe go buy a new tube of mascara. Walk alongside Lincee as she discovers that her identity is not found in her job, her relationship status, her bank account, or her social circle. It's found in Christ.
About the Author
---
Lincee Ray is an accidental blogging superstar who now writes for Entertainment Weekly and the Associated Press. An active speaker, she can be found at her popular website www.ihategreenbeans.com, where she makes it clear that she believes it's important to tell your story--even if it makes you seem a little crazy. She lives in Texas.