Geeked Out: A Lame New World (Geeked Up #1) (Hardcover)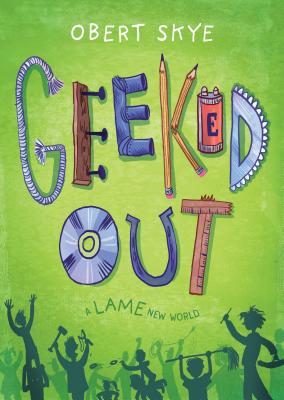 Description
---
Book 1 in a post-apocalyptic diary fiction odyssey
Waddle Jr. High has become a dystopian outpost with divided cliques--Pepville, Jockstown, Staffland, and even Geekdom. Society may be in danger but middle school must go on. Enter geeky Tip and all his friends: easy-to-blush Owen, coding master Xennipher, and brilliant, dependable Mindy, who've all had enough of being bullied and decide to take a stand. Together, they form a secret vigilante group: the League of Average Mediocre Entities, better known as LAME. With everything that's going on in the world, their school could use a few heroes. And what if those heroes were geeked-up superheroes? Get ready. Better yet, get LAME
This irrepressible spoof series is full of the same clever humor and hilarious cartoon illustrations as the Creature From My Closet series, but for a slightly older middle-grade audience.
This has Common Core connections.
A Christy Ottaviano Book
About the Author
---
Obert Skye is the author and illustrator of the bestselling Creature From My Closet series, including Wonkenstein, Potterwookiee, Pinocula, Katfish, Lord of the Hat, and Batneezer, and the author of the Witherwood Reform School series. He has also written the bestselling children's fantasy adventure series Leven Thumps and Pillage. He lives with his family in Idaho.