The Phantom Twin (Paperback)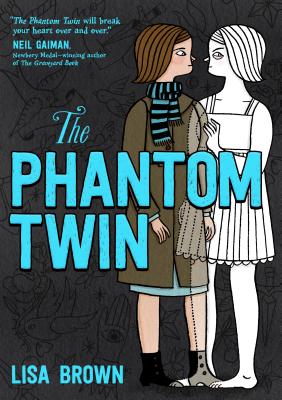 $17.99
Coming Soon - Available for Pre-Order Now
Description
---
A young woman is haunted by the ghost of her conjoined twin, in Lisa Brown's The Phantom Twin, a sweetly spooky graphic novel set in a turn-of-the-century sideshow.
Isabel and Jane are the Extraordinary Peabody Sisters, conjoined twins in a traveling carnival freak show—until an ambitious surgeon tries to separate them and fails, causing Jane's death.
Isabel has lost an arm and a leg but gained a ghostly companion: Her dead twin is now her phantom limb. Haunted, altered, and alone for the first time, can Isabel build a new life that's truly her own?
About the Author
---
Lisa Brown is a New York Times bestselling illustrator, author, and cartoonist. Her work includes a slew of illustrated books including Goldfish Ghost by Lemony Snicket, The Airport Book, Picture the Dead with Adele Griffin, and Mummy Cat by Marcus Ewert. She lives in San Francisco, California where she teaches in the illustration department of the California College of the Art.
Praise For…
---
"Lovely. A fascinating and heartfelt tale of two sisters, beautifully told, beautifully drawn." —Ransom Riggs, #1 New York Times–bestselling author of Miss Peregrine's Home for Peculiar Children
"A ghost story, a story of outsiders and carnivals, of vanity and friendship, innocents and monsters, and the way our loved ones haunt us even after they are gone. Perfectly paced and painfully told, The Phantom Twin will break your heart over and over." —Neil Gaiman, Newbery Medal–winning author of The Graveyard Book
"As strange and lovely as the sideshow it portrays, The Phantom Twin is a unique delight." —Vera Brosgol, Caldecott Honor–winning author-illustrator of Be Prepared and Anya's Ghost
"There's heart and soul visible in every panel of this beautiful book." —Carson Ellis, Caldecott Honor–winning author-illustrator of Du Iz Tak?
"Skating the line of unsettling and adorable, Brown's trademark tidy artwork and straightforward, emotional text will make readers wrestle with what it means to be a 'freak.' Step right up." —Daniel Kraus, New York Times–bestselling coauthor of The Shape of Water
"Fascinating and creepy and gorgeous—a ghost story that's equal parts romance, reckoning with grief, and tale of two sisters. I'm in love." —Maggie Tokuda-Hall, author of The Mermaid, the Witch, and the Sea