Glitterland (Spires #1) (Paperback)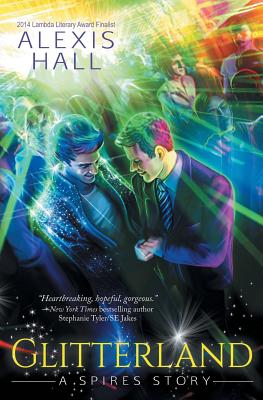 Other Books in Series
This is book number 1 in the Spires series.
Staff Reviews
---
Famed author Ash Winters moves through life with specific routines to manage his bipolar depression, but that's all thrown out the window when he meets aspiring model Darian Taylor at a nightclub. Ash wakes up in a strange bed after a one-night stand with Darian and sneaks out in the midst of a panic attack which leads to a depressive episode. A few months later, Darian finds Ash at a book signing and they begin a relationship which runs aground when Ash pushes Darian away. You'll find Hall's signature banter and stellar secondary characters here, but you'll also find a man who doesn't always want to be alive and doesn't know whether or not he deserves love. It's a painful and beautiful story all at once. This reissue of Hall's first novel is updated with plenty of extras that longtime fans will enjoy.
— Cathy
Description
---
The universe is a glitterball I hold in the palm of my hand.
Once the golden boy of the English literary scene, now a clinically depressed writer of pulp crime fiction, Ash Winters has given up on love, hope, happiness, and -- most of all -- himself. He lives his life between the cycles of his illness, haunted by the ghosts of other people's expectations.
Then a chance encounter at a stag party throws him into the arms of Essex boy Darian Taylor, an aspiring model who lives in a world of hair gel, fake tans, and fashion shows. By his own admission, Darian isn't the crispest lettuce in the fridge, but he cooks a mean cottage pie and makes Ash laugh, reminding him of what it's like to step beyond the boundaries of anxiety.
But Ash has been living in his own shadow for so long that he can't see past the glitter to the light. Can a man who doesn't trust himself ever trust in happiness? And how can a man who doesn't believe in happiness ever fight for his own?