Wish You Were Italian: An If Only novel (If Only...) (Paperback)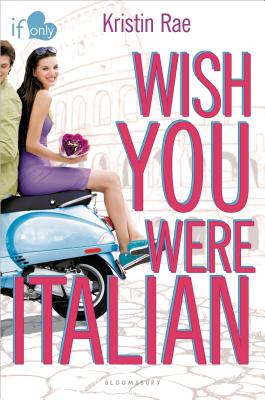 $9.99
Usually Ships in 1-5 Days
Staff Reviews
---
Pippa's parents have decided to send her to an art program in Italy to prepare her for working in the family art gallery. When she arrives in Italy and meets a teenager named Chiara who offers her a job and a place to stay, Pippa takes that offer and hides the truth from her parents in exchange for having a great adventure. Atmospheric details and just the right amount of romance make this a very fun read for grades 7 and up.
— Cathy
Description
---
Enjoy Wish You Were Italian and the other standalone titles in Bloomsbury's contemporary If Only romance line centered around an impossible problem: you always want what you can't have!

The summer before senior year of high school. It's supposed to be one of the biggest summers of her life, but Pippa is headed to an art program she has no interest in. The one saving grace is it's in Italy. And when the opportunity strikes, she decides to ditch the program and travel Italy accomplishing her own list of goals. Things like swimming in the Mediterranean Sea, eating a whole pizza in one sitting…and falling in love with an Italian boy!
As she explores the famous cities of Rome and Pompeii, Pippa finds herself falling for two boys: a local guy she knows is nothing but trouble and a cute American archaeology student who keeps disappearing and reappearing at the strangest moments. Will Pippa find her true love before her parents find out the truth about her summer program?
About the Author
---
Kristin Rae was born and raised in Texas though her accent would suggest otherwise. She's addicted to books, music, movies, crafty things, and chocolate. A former figure skating coach, LEGO merchandiser, and photographer, she's now happy to create stories while pretending to ignore the carton of gelato in the freezer. Kristin lives in Houston with her husband and their two boxers.
www.kristincreative.blogspot.com
Praise For…
---
"A charming and addictive read. Devour this delicious treat like a double scoop of gelato." —Lindsey Leavitt, author of Going Vintage and Sean Griswold's Head
"Enjoyable--an ideal beach read." —Kirkus Reviews
"This breezy, envy-inducing romance opens the If Only series." —Publishers Weekly
"Rae's debut novel is a breezy, fluffy summer read full of dreamy romance." —Booklist
"Readers may enjoy the international setting and details about Italian culture and travel in this innocent romance." —School Library Journal