Changers Book Four: Forever (Hardcover)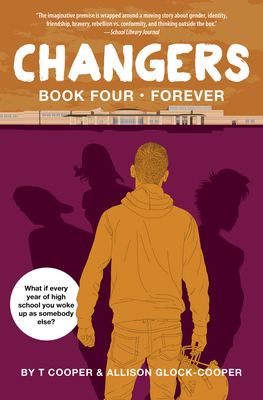 $35.95

Usually Ships in 4-7 Days
Description
---
This book is one of the most powerful installments...A satisfying conclusion to a series that takes readers on a very unusual journey, filled with emotional highs and lows.
--School Library Journal XPress Reviews
This is a bang-up ending to the series and could be read solo, but do yourself a favor and go through the whole journey with this Changer teen's personas of Drew, Oryon, and Kim first
--Books YA Love
Praise for the Changers series:
Changers should appeal to a broad demographic. Teenagers, after all, are the world's leading experts on trying on, and then promptly discarding, new identities.
--New York Times Book Review
Fantastic and poignant.
--John Green
When we left Kim Cruz in Changers Book Three, she'd just come out to her best friend. In Changers Book Four: Forever, Kim discovers that this is only one small part of understanding who she is and where she belongs. Soon enough, she changes again, into the body and social status of her dreams. What she does with her newfound power will come to haunt her. In this final installment of the provocative Changers series, our hero learns what it means to be the person everybody loves without actually being known at all; what it's like to be given the benefit of the doubt when you don't deserve it; and how easily opportunity comes when you look the part. Changers Book Four explores what it means to find yourself--even as your self keeps changing--and how in the end we become the person whose story we want to finish.
About the Author
---
T Cooper and Allison Glock-Cooper are best-selling and award-winning authors and journalists. Between them, they have published eleven books, raised two children, and rescued six dogs. The Changers series is their first collaboration in print. The two also write for television and film, and are currently adapting Changers for television (with Lionsgate). The authors can be reached via their websites: www.t-cooper.com and www.allisonglock.com.