Incensed (A Taipei Night Market Novel #2) (Paperback)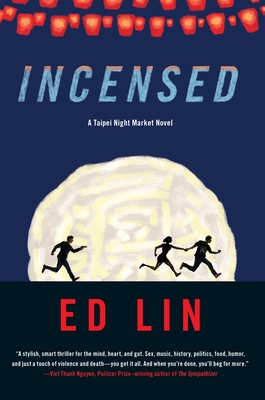 Other Books in Series
This is book number 2 in the A Taipei Night Market Novel series.
Description
---
"Ed Lin's Incensed is a stylish, smart thriller for the mind, heart, and gut. Sex, music, history, politics, food, humor, and just a touch of violence and death—you get it all. And when you're done, you'll beg for more." —Viet Thanh Nguyen, Pulitzer Prize–winning author of The Sympathizer 

Family secrets come to light in this dark, comedic crime caper set in Taipei during the annual Mid-Autumn Festival. 

In Taiwan, the Mid-Autumn Festival is a time for prioritizing family. When 25-year-old Jing-nan's gangster uncle, Big Eye, asks a favor, Jing-nan can't exactly say no, especially because two goons are going to follow him around to make sure he gets it done right. The favor is this: Big Eye's 16-year-old daughter, Mei-ling, has a biker boyfriend from the wrong side of the tracks—in Big Eye's gangster opinion—and Big Eye wants Jing-nan to bring her to Taipei, away from the bad influences, and straighten her out.

It doesn't take Jing-nan long to discover Mei-ling is even more trouble than the average bratty, rebellious teenager. She's been spoiled rotten and doesn't know how to take no for an answer. She has her father's thugs wrapped around her finger and quickly becomes the miniature dictator of Jing-nan's life. But Mei-ling is also hiding a secret—one that puts her in harm's way. If Jing-nan wants to save his cousin from her own demons, he has to figure out the truth, even if it tears his family apart—again.
About the Author
---
Ed Lin is a journalist by training and an all-around stand-up kinda guy. He's the author of several books: Ghost Month; Waylaid, his literary debut; and his Robert Chow crime series, set in 1970s Manhattan Chinatown: This Is a Bust, Snakes Can't Run, and One Red Bastard. Lin, who is of Taiwanese and Chinese descent, is the first author to win three Asian American Literary Awards. Lin lives in New York with his wife, actress Cindy Cheung, and son.
Praise For…
---
Praise for Incensed

"Ed Lin's Incensed is a stylish, smart thriller for the mind, heart, and gut. Sex, music, history, politics, food, humor, and just a touch of violence and death—you get it all. And when you're done, you'll beg for more."
—Viet Thanh Nguyen, Pulitzer Prize–winning author of The Sympathizer

"Ed Lin's Incensed is his best book ever—and this is the guy who wrote Ghost Month. Its world is so vivid and alive that when you're finished you'll remember it as though you spent a month there."
—Timothy Hallinan, author of King Maybe

"Lin's comic tonality makes this reading experience one that brings forth both intrigue and laughter."
—Asian American Lit Fans

"The second entry in Lin's "Taipei Night Market" series is an exciting mystery with an intriguing hero and cast of characters who will appeal to readers who like international settings in their crime fiction. Mystery fans enchanted by the Asian night markets visited on numerous Travel Channel shows will enjoy a peek behind the curtain, as Taiwan's history and culture are lightly explored in this story that moves fluidly along to its conclusion."
—Library Journal

"A richly detailed insider's tour of contemporary Taiwan."
—Kirkus Reviews

"Readers will be as caught up in Lin's rich descriptions of Taiwan's sights, sounds, and mouthwatering foods as they are in his intriguing characters."
—Publishers Weekly 

Praise for Ghost Month

"A unique blend of tension, charm, tragedy and optimism, with characters you'll love, and a setting so real you'll think you've been there. Highly recommended."
—Lee Child

"A sidewalk noodle shop in Taipei's Shilin Night Market during summer's Ghost Month is the vivid backdrop for Ed Lin's Ghost Month . . . The plot twists come fast and furious as the story reaches its climax. Come for the exotic food and fascinating setting; stay for the characters."
—The Boston Globe

"Covers Taiwan's complicated political identity and relationship with mainland China, all during one of the most remarkable times of the year: Ghost Month."
—To the Best of Our Knowledge

"This is pure and perfect suspense and a book that is almost impossible to put down."
—Crimespree Magazine