Ghost Month (A Taipei Night Market Novel #1) (Paperback)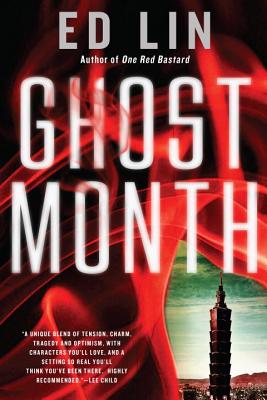 $15.95
Email or call for price
Other Books in Series
This is book number 1 in the A Taipei Night Market Novel series.
Description
---
Welcome to Unknown Pleasures, a food stand in Taipei's night market named after a Joy Division album, and also the location for a big-hearted new mystery set in the often undocumented Taiwan.

August is Ghost Month in Taiwan—a time to pay respects to the dead and avoid unlucky omens. Jing-nan, who runs a food stand in a bustling Taipei night market, isn't superstitious, but this August will haunt him nonetheless. He learns that his high school sweetheart has been murdered—found scantily clad near a highway where she was selling betel nuts. Beyond his harrowing grief, Jing-nan is confused. "Betel nut beauties" are typically women in desperate circumstances, but Julia Huang was high school valedictorian, and the last time Jing-nan spoke to her, she was far away, happily enrolled in NYU's honor program. The facts don't add up. Julia's parents don't think so, either, but the police seem to have closed the case without asking any questions. The Huangs beg Jing-nan to do some investigating—reconnect with old classmates, see if he can learn anything more about Julia's last years. Reluctantly, he agrees, for Julia's sake. But nothing can prepare him for what he is about to learn, or how it will change his life.
About the Author
---
is a journalist by training and an all-around stand-up kinda guy. He's the author of several books: Waylaid, his literary debut, and his Robert Chow crime series, set in 1970s Manhattan Chinatown: This Is a Bust, Snakes Can't Run, and One Red Bastard. Lin, who is of Taiwanese and Chinese descent, is the first author to win three Asian American Literary Awards. Lin lives in New York with his wife, actress Cindy Cheung.
Praise For…
---
Praise for Ghost Month

A LibraryJournal Best Book of 2014
BookRiot 100 Must-Read Novels of Noir

"A sidewalk noodle shop in Taipei's Shilin Night Market during summer's Ghost Month is the vivid backdrop for Ed Lin's Ghost Month . . . The plot twists come fast and furious as the story reaches its climax. Come for the exotic food and fascinating setting; stay for the characters."
—The Boston Globe

"A unique blend of tension, charm, tragedy and optimism, with characters you'll love, and a setting so real you'll think you've been there. Highly recommended."
—Lee Child

"As in the crime novels of one of his literary mentors, Raymond Chandler, Lin's prose is frequently image-laden. Ghost Month is also an excellent introduction to Taipei's food culture—readers are likely to head to the nearest noodle shop after they've finished the book."
—South China Morning Post

"Cover's Taiwan's complicated political identity and relationship with mainland China, all during one of the most remarkable times of the year: ghost month."
—To the Best of Our Knowledge 

"Lin vividly describes the open-air night market where Jing-nan works. He also explains the knotty relationship between business, cops and gangsters without passing judgment."
—San Antonio Express-News

"It wouldn't be an Ed Lin book if there weren't also humor in the story. Lin uses descriptions of Jing-nan's funny and endearing relationships with his two food stall employees, Dwayne and Frankie, and his encounters with eccentric Shilin Market workers to balance Jing-nan's sad and lonely search for who Julia was . . . a book with a great sense of place, a good story, interesting characters, and a tender heart."
—Murder By The Book, Starred Review

"This is pure and perfect suspense and a book that is almost impossible to put down. If it doesn't win a few awards we'll be surprised."
—Crimespree Magazine

"Hold on for a breathtaking, multi-cultural ride. With some good luck and a few well-placed joss sticks, you just might survive."
—Martin Limón, author of Nightmare Range

"I would imagine most readers, like me, are not that familiar with Taiwan but Ed Lin will rectify that situation . . . As an armchair traveler I found this a fascinating journey."
—Register-Pajaronian

"Taiwan's traditions play a major role in Lin's category-defying thriller that manages to be both funny and profound. Lin writes with strong literary overtones and delivers a bang-up finale sure to keep readers engaged well past lights out."
—Library Journal, Starred Review

"For a guy who scoffs at the ghosts revered by so many of his fellow Taiwanese, droll everyman Jing-nan, a night-market food stall manager, ironically finds himself spending much of his time chasing one as he investigates the murder of his childhood sweetheart, Julia Huang, in this darkly comic thriller from Lin."
—Publishers Weekly, Starred Review

"Offers full-sensory descriptions of Taipei's night market that are perfect for armchair travelers, especially if they like their vacations spiced up with odd companions and exotic Mob violence."
—Booklist

"The teeming Taipei setting and the tormented hero combine to create a furious energy that transcends a whodunit plot."
—Kirkus Reviews

"A rich and fascinating account of an unfamiliar world."
—Reviewing the Evidence

"Depicts the prevailing culture of this vibrant international city, and hones in on key elements of social behavior, language and mores. Ghost Month is superbly written and provides plenty of conversational fodder making it an ideal selection for book clubs."
—BookBrowse

"Hopefully this unique protagonist will reappear in a sequel further exploring the exuberant setting of the night market of Taipei."
—Stop, You're Killing Me

Praise for Ed Lin

"Lin is an astonishing talent."
—Junot Díaz

"Lin's unsentimental, purely realist--not naturalist, not socialist, not postmodernist—novel raises hopes that American fiction may yet grow up."
—Booklist (Starred Review for Waylaid)

"Ed Lin is a new writer, but he has the eye and wit of a pro. Waylaid will make you laugh and cringe."
—Playboy (for Waylaid)

"Paints a convincing picture of Manhattan's Chinatown. Readers interested in the integration of Asian-Americans into American society, as well as those who like gritty procedurals, will be well rewarded."
—Publishers Weekly (Starred Review for Snakes Can't Run)