Premeditated Myrtle (Myrtle Hardcastle Mystery 1) (Hardcover)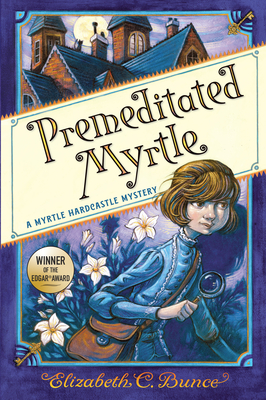 Staff Reviews
---
A keen observer of her surroundings, Myrtle Hardcastle is passionately interested in all things medicine, toxicology, and especially criminal--not at all seemly subjects for a twelve-year-old Proper Young Lady of Victorian England. When elderly neighbor Miss Minerva Wodehouse mysteriously dies in her tub--she never takes evening baths--and her prize Black Tiger hybrid lilies disappear, Myrtle is immediately on the case, accompanied by her level-headed governess Miss Ada Judson. A new series not to be missed for 5th graders and above.
— Jennifer G
Fall 2020 Kids Indie Next List
---
"Myrtle can give Sherlock Holmes a run for his money! This audacious and bright young detective will stop at nothing to discover what happened to her neighbor. She's wicked sharp, but that will only take her so far. Luckily, she's assisted by the invincible Miss Judson, governess and mentor. I flew through this exciting mystery."
— Miriam Meeks, E. Shaver, Bookseller, Savannah, GA
Description
---
Introducing Myrtle Hardcastle, your favorite new amateur detective: a wickedly smart twelve-year-old with a keen interest in criminology and a nose for murder.

Twelve-year-old Myrtle Hardcastle has a passion for justice and a Highly Unconventional obsession with criminal science. Armed with her father's law books and her mum's microscope, Myrtle studies toxicology, keeps abreast of the latest developments in crime scene analysis, and Observes her neighbors in the quiet village of Swinburne, England.

When her next-door neighbor, a wealthy spinster and eccentric breeder of rare flowers, dies under Mysterious Circumstances, Myrtle seizes her chance. With her unflappable governess, Miss Ada Judson, by her side, Myrtle takes it upon herself to prove Miss Wodehouse was murdered and find the killer, even if nobody else believes her — not even her father, the town prosecutor.

With sparkling wit and a tight, twisty plot, Premeditated Myrtle, the first in a series from an award-winning author, introduces a brilliant young investigator ready to take on hard cases and maddening Victorian rules for Young Ladies of Quality in order to earn her place among the most daring and acclaimed amateur detectives of her time or any other.
 
About the Author
---
Elizabeth C. Bunce grew up on a steady diet of Sherlock Holmes, Trixie Belden, and Quincy, M.E., and always played the lead prosecutor in mock trial. She has never had a governess, and no one has ever accused her of being irrepressible, but a teacher did once call her "argumentative"—which was entirely untrue, and she can prove it. She lives in Kansas City with her husband and their cats. Premeditated Myrtle is her first book for middle-grade readers. You can find her online at elizabethcbunce.com.
Praise For…
---
"A joyful thing to behold. Set in Victorian England, this mystery gleefully overturns sexist norms and celebrates independent women of intellect, with Myrtle Hardcastle leading the charge."
—Booklist, starred review

"Premeditated Myrtle is a book young readers will love and adults may well sneak out of backpacks and off of nightstands for their own enjoyment… Here's hoping for more adventures with this delightful, heroic protagonist."
—BookPage, starred review

"Bunce crafts a truly captivating murder mystery, throwing in a delicious mix of twists, red herrings, and relatives excluded from the family fortune. Myrtle is an entertaining protagonist, not afraid to get her hands dirty, sneak into mansions after dark to find a clue, or call out sexism of men toward her scientific interests or the racism toward her governess. The book will make readers yearn for more of Myrtle's (mis)adventures."
—Bulletin of the Center for Children's Books

"A saucy, likable heroine shines in a mystery marked by clever, unexpected twists."
—Kirkus Reviews

"[A] clever and lively Victorian English village murder mystery . . . Bunce does an excellent job of making Myrtle the lead actor but gives her a strong set of (mostly female) supporters."
—The Horn Book

"Bunce's detective series opener features a quirky, winning narrator and a lively secondary cast . . . A generous, well-wrought relationship between governess and charge complements tightly plotted twists . . . Myrtle is as clever as she is determined, and her expertise—seen in evidence collection and courtroom antics—is certain to delight genre stalwarts and mystery novices alike."
—Publishers Weekly

"In the tradition of heroines like Flavia de Luce and Harriet the Spy, Myrtle is a fine example of the Victorian scientific female—smart, inquisitive and fearless. Written with a terrific mixture of humor and suspense, Premeditated Myrtle is a perfect read for any budding detective."
—Rhys Bowen, New York Times bestselling author of the Her Royal Spyness series