Young Jane Young: A Novel (Paperback)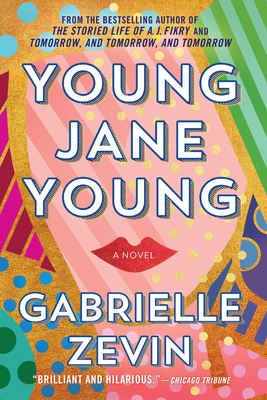 Staff Reviews
---
Aviva Grossman makes the mistake of having an affair with a congressman when she's young. This new novel from Gabrielle Zevin explores the process of reinventing herself. Zevin tells a story in five voices and she gets each voice exactly right. This is a book full of wit and heart with much to discuss and much to consider - perfect for book clubs!
— Cathy
Aviva Grossman, a capable, ambitious congressional intern, makes a mistake: She has an affair with her boss. When the news gets out, the congressman slips through the headlines unscathed, while Aviva's name is filleted – destroying her career before it can begin. To build a life, Aviva is forced to move away from home and recreate herself entirely. Told from the perspectives of five well-realized, provocative women, YOUNG JANE YOUNG is an entertaining, thoughtful story that will lace your blood with empathy and get you thinking about today's political and social climates. Why aren't more women elected to office? What's with the double standard of morality imposed on women? A thorough takedown of slut-shaming. Highly recommended.
— Mary Cate
September 2017 Indie Next List
---
"I've been waiting for a quirky, funny, thoughtful novel to follow in the footsteps of Where'd You Go, Bernadette, and behold: I have found it. I loved the vibrant female characters at the heart of this book. Told in four different voices, Young Jane Young is the story of Aviva Grossman, a young Congressional intern in South Florida who does the unthinkable: she sleeps with her boss. The book details the repercussions of that decision and examines the abuse of power that occurs in politics and in the day-to-day interactions between members of the opposite sex. Gabrielle Zevin has written something really smart and heartwarming, yet also incredibly timely."
— Annie Jones, The Bookshelf, Thomasville, GA
Description
---
"SLY, EXHILARATING . . . HILARIOUS."
—People (Book of the Week)
 
This is the story of five women . . .
 
Meet Rachel Grossman.
She'll stop at nothing to protect her daughter, Aviva, even if it ends up costing her everything.
 
Meet Jane Young.
She's disrupting a quiet life with her daughter, Ruby, to seek political office for the first time.
 
Meet Ruby Young.
She thinks her mom has a secret. She's right.
 
Meet Embeth Levin.
She's made a career of cleaning up her congressman husband's messes. 
 
Meet Aviva Grossman.
The Internet won't let her or anyone else forget her past transgressions. 
 
This is the story of five women . . .
. . . and the sex scandal that binds them together. 
 
From Gabrielle Zevin, the bestselling author of The Storied Life of A. J. Fikry, comes another story with unforgettable characters that is particularly suited to the times we live in now . . .
 
About the Author
---
Gabrielle Zevin is a New York Times bestselling author whose books have been translated into more than thirty languages. Her eighth novel, The Storied Life of A.J. Fikry, spent more than four months on the New York Times bestseller list, reached number one on the national Indie Bestsellers list, and has been a bestseller all around the world. She has also written books for children and young adults, including the award-winning Elsewhere.
Praise For…
---
"This sly, exhilarating novel takes on slut-shaming . . . and manages to be hilarious in the process."
—People(Book of the Week)

"Maybe with enough determination and love and support, women can choose their own adventures. They can start, like Aviva, by choosing not to be ashamed. In this life-affirming novel, Zevin doesn't make that look easy, but she makes it look possible."
—Ron Charles, The Washington Post

"It's brilliant and hilarious, and it makes you wince in recognition—for the double-standard that relegates scandalized women to a life of shame even as their married lovers continue with their careers (and often their marriages), for the insatiable appetite we have for every last detail, for the ease and speed with which we stop seeing people as multilayered humans. It's the sort of book that invites us to examine our long-held beliefs and perceptions . . . It has a heart. And a spine. It's exactly, I would argue, what we need more of right now."
—Chicago Tribune

"A smart, intersectional feminist tour de force."
—Washington Times

"Another charming and funny winner by the author of the 2014 best seller The Storied Life of A. J. Fikry, about a woman at midlife confronting, along with her mom and daughter, a sex scandal from her youth. The perfect end-of-summer read."
—AARP, The Magazine

"[A] warm-hearted and witty book about what it means to reinvent yourself because you simply have no choice but to do so."
—BookRiot

"This book will not only thoroughly entertain everyone who reads it; it is the most immaculate takedown of slut-shaming in literature or anywhere else. Cheers, and gratitude to the author."
—Kirkus Reviews, starred review

"Splendid . . . A witty, strongly drawn group of female voices tells Aviva's story . . . [Zevin] has created a fun and frank tale. Her vibrant and playful writing, and the fully realized characters taking turns as narrator, bring the story a zestful energy, even while exploring dark themes of secrecy and betrayal. Zevin perfectly captures the realities of the current political climate and the consequences of youthful indiscretions in an era when the Internet never forgets."
—Booklist 

"Presenting a sharp send-up of our culture's obsession with scandal and blame, this novel pulls at the seams of misogyny from all angles . . . Likely to be a popular book club pick."
—Library Journal

"Satisfying and entertaining."
—Publishers Weekly