Christmas Presents (Hardcover)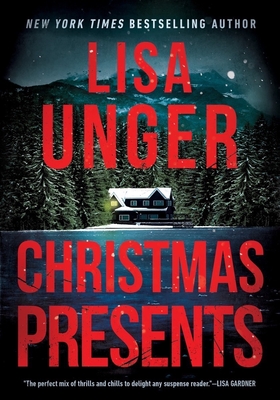 $23.95

Usually Ships in 4-7 Days
Staff Reviews
---
Madeline Martin is a bookshop owner in a small town, the survivor of an attack that left one friend dead, two more missing, and her former boyfriend sentenced to life in prison for the crimes after a dark night at a Christmas party when they were all teenagers in high school. One of her favorite authors and true crime podcasters, Harley Granger, comes to town, and she knows he is there to peel back the layers of what happened in the past, even though she wants nothing more than to keep the door firmly shut on those memories. But other girls have gone missing over the years, and with a new girl missing, Madeline is forced to confront the memories and figure out what really happened before it is too late to find the most recent victim. A solid, twisty Christmas-set thriller.
— Aerie
Description
---
A SheReads, Criminal Element, CrimeReads, and Zibby Mag "Most Anticipated" Thriller
Instead of presents this Christmas, a true crime podcaster is opening up a cold case…
Madeline Martin has built a life for herself as the young owner of a thriving business, The Next Chapter Bookshop, despite her tragic childhood and now needing to care for her infirm father. When Harley Granger, a failed novelist turned true crime podcaster, drifts into her shop in the days before Christmas, he seems intent on digging up events that Madeline would much rather forget. She's the only surviving victim of Evan Handy, the man who was convicted of murdering her best friend Steph, and is suspected in the disappearance of two sisters, also good friends of Madeline's, who have been missing for nearly a decade. It's an investigation that has obsessed her father Sheriff James Martin right up until his stroke took his faculties.



Harley Granger has a gift for seeing things that others miss. He wasn't much of a novelist, but his work as a true crime author and podcaster has earned him fame and wealth—and some serious criticism for his various unethical practices. Still, visiting Little Valley to be closer to his dying father has caused him to look into a case that many people think is closed—and some want reopened. And he has a lot of questions about the night Stephanie Cramer was killed, Ainsley and Sam Wallace disappeared, and Madeline Martin was left for dead, bleeding out on a riverbank.



Since Evan Handy went to jail, three other young women have gone missing, most recently a young college dropout named Lolly. Five young women missing in the same area in a decade. Are they connected? Was Evan Handy innocent after all? Or was there some else there that night? Someone who is still satisfying his dark appetites?
As Christmas approaches and a blizzard bears down, Madeline and her childhood friend Badger return to a past they both hoped was dead—to find the missing Lolly and to answer questions that have haunted them both, discovering that the truth is more terrible and much closer to home than they think.
Coupling a picturesque, cozy setting with a deeply unsettling suspenseful plot, Christmas Presents is a chilling seasonal novella that can be enjoyed all year long.
About the Author
---
Lisa Unger is a New York Times and internationally bestselling author. With books published in thirty-three languages and millions of copies sold worldwide, she is widely regarded as a master of suspense.
Praise For…
---
If you're looking for a warm, heart-warming story of holiday cheer, this ain't it. This book is a cold-blooded nasty thriller. I loved it!
— R.L. Stine

Lisa Unger never disappoints.
— Riley Sager

The perfect mix of thrills and chills to delight any suspense reader.
— Lisa Gardner

[Lisa Unger] emphasizes survivor's guilt and the inability to move on in this compelling story.
— Library Journal

Fans of Unger will know her thrillers match top-notch writing with gripping stories; this one won't disappoint in that regard and offers the bonus of a satisfying family story.
— FirstCLUE

Unger builds a plot that gains speed as it spirals through twists and turns…. Cozy it's not, but 'Christmas Presents' might be just the thing to fill the stocking of the thriller fans on your list.
— Tampa Bay Times

CHRISTMAS PRESENTS is Lisa Unger at her deadliest. This novella will disturb and frighten the sturdiest of thriller readers.
— BookReporter

Electrifying ... Unger fans will find themselves racing through the pages of Christmas Presents at near reindeer speed.

— BookPage