My Father's House (Hardcover)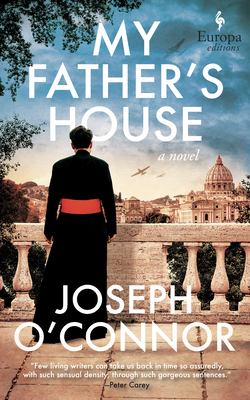 $27.00

Usually Ships in 4-7 Days
Staff Reviews
---
Based on the true story of an Irish priest at the Vatican, this novel is a heart-racing literary World War II thriller.  In Nazi-occupied Rome in 1943, Monsignor Hugh O'Flaherty organized a choir in the Vatican -- a group of diplomats, citizens of neutral countries and local Italians who met regularly to sing, but primarily to organize fund-raising activities for a POW Escape Line.  A series of taped interviews and prepared statements from these participants 20 years later along with a third-person narrative of events describe the Christmas Eve covert distribution of funds to various parties who helped escaped prisoners get out of the country. The author's ability to create a you-are-there feeling had me sitting on the edge of my chair, unable to put the book down. Recommended.
— Alice
Description
---
From the acclaimed, bestselling author of Star of the Sea and winner of the 2021 Irish Book Awards Book of the Year for Shadowplay, comes a gripping and atmospheric new novel set in occupied Rome.
September 1943: German forces have Rome under their control. Gestapo boss Paul Hauptmann rules over the Eternal City with vicious efficiency. Hunger is widespread. Rumors fester. The war's outcome is far from certain. Diplomats, refugees, Jews, and escaped Allied prisoners flee for protection into Vatican City, the world's smallest state, a neutral, independent country nestled within the city of Rome. A small band of unlikely friends led by a courageous Irish priest is drawn into deadly battle of wits as they attempt to aid those seeking refuge.
My Father's House is inspired by the extraordinary true story of Monsignor Hugh O'Flaherty, who, together with his accomplices, risked his life to smuggle Jews and escaped Allied prisoners out of Italy right under the nose of his Nazi nemesis. Suspenseful and beautifully written, My Father's House tells an unforgettable story of love, faith, sacrifice, and courage.
"Few living writers can take us back in time so assuredly, with such sensual density, through such gorgeous sentences."--Peter Carey