Oskar and the Eight Blessings (Hardcover)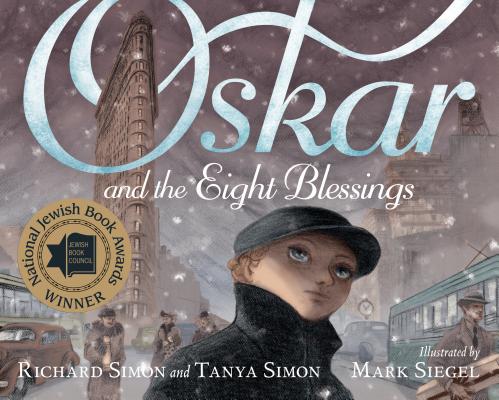 Staff Reviews
---
Oskar comes to America to escape the Kristallnacht in Europe. As his parents put him on the boat, they remind him that "even in bad times, people can be good." Alone and facing a long walk up Broadway to his aunt's house, he encounters several different New Yorkers, from Eleanor Roosevelt to a Christmas tree salesman. Each one shows him a kindness and Oskar finds the welcome to America warmer than anticipated. Mark Siegel's illustrations make New York its own character in this story, which can be used effectively in classrooms as well as at home.
— Cathy
Description
---
Winner of the 2015 National Jewish Book Award for Children's Literature
A refugee seeking sanctuary from the horrors of Kristallnacht, Oskar arrives by ship in New York City with only a photograph and an address for an aunt he has never met. It is both the seventh day of Hanukkah and Christmas Eve, 1938. As Oskar walks the length of Manhattan, from the Battery to his new home in the north of the city, he passes experiences the city's many holiday sights, and encounters it various residents. Each offers Oskar a small act of kindness, welcoming him to the city and helping him on his way to a new life in the new world. This is a heartwarming, timeless picture book.
About the Author
---
Tanya Simon
(with her husband, Richard Simon) is a co-author of the children's novel
Zora and Me
, winner of a Coretta Scott King/John Steptoe Award for New Talent. She and her husband live in Westchester, New York.
Richard Simon and Tanya Simon are a husband-and-wife writing team. Richard is chair of the language department at an independent school and is co-author of a successful off-Broadway play. Tanya is co-author of the children's novel
Zora and Me
, winner of a Coretta Scott King/John Steptoe Award for New Talent. They live in Westchester, New York. Oskar and the Eight Blessings is their first picture book.
Mark Siegel was born in Ann Arbor, Michigan, and raised in France. He graduated from Brown and lives in New York.
Mark is the author and illustrator of several award-winning picture books and graphic novels, including Seadogs, Long Night Moon, To Dance, Moving House, and Sailor Twain, which author John Irving called "a gripping novel with compelling characters, enhanced by haunting, erotically charged artwork." Mark's latest project is the collaborative graphic novel 5 Worlds, an epic science-fiction series for young readers. The New York Times Book Review hails it as " . . . a bang-zoom start to a series that promises to be epic in both the classical and internet senses of the word. . . this is a capital-S Saga."
Mark is also the founder, and Creative and Editorial Director of First Second Books, Macmillan's graphic novel house. First Second offers an ambitious collection in every age category, in a wide range of themes and styles, with talent from all over the world. First Second has garnered an unmatched array of literary awards, starred reviews and bestsellers—including for the original works of National Book Award Finalist and Printz Winner Gene Luen Yang, and beloved bestselling titles such as This One Summer, Real Friends, Spill Zone, The Adventure Zone and many more. Mark has appeared before thousands of librarians and educators to speak about the graphic novel renaissance.
Mark has given lectures and workshops internationally and all around North America, for authors, artists, librarians, students, executives in many venues, at tradeshows, companies, Comic Cons, and animation studios, including Blue Sky, Dreamworks, Disney, and Pixar, for both creative and executives.
More at www.marksiegelbooks
Praise For…
---
Winner of the 2015 National Jewish Book Award for Children's Literature
"Eloquently rendered in art and text. . . The descriptive prose has lyrical touches, while vibrantly accented, softly-shaded illustrations incorporate varying perspectives and historical details." —Booklist, starred review
"A wonderful, heartwarming picture book for any library at any time of year." —School Library Journal, starred review
"Wonderfully original in every way." —Publishers Weekly, starred review
"Siegel's paneled illustrations make anything seem possible. . . They glow. People used to say that the streets of America were paved with gold, and this book almost makes you believe it." —Kirkus Reviews