The Plateau (Hardcover)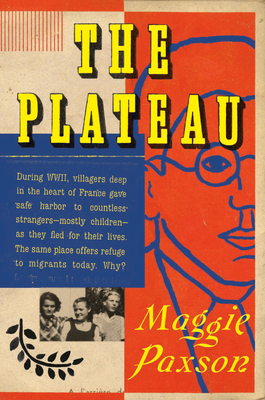 $28.00
Usually Ships in 1-5 Days
Staff Reviews
---
Several years ago, anthropologist Maggie Paxson traveled to a hilltop community in central France to research the altruistic group behavior of its residents during World War II. The townspeople on the cold and windy plateau had taken in and protected refugees targeted by the Nazis in the early years of the war. Drawn to this community through a distant family connection, Paxson's research morphed into an intensely personal journey that led her away from academic anthropology toward a kind of self discovery as she obsessed over the life and actions of Daniel Trocme, a teacher on the Plateau who died in a concentration camp. Moreover, as she spent time on the Plateau, Paxson gradually became increasingly involved in the lives of its current residents, and she discovered that today's townspeople exhibit the same selfless behavior toward today's global refugees that their parents' generation showed to WWII refugees. Journal-like in its presentation of research, analysis, and personal inquiry into matters of faith and conviction, this is also a dramatic study of the many facets of human behavior.  Highly recommended. 
— Alice
Description
---
During World War II, French villagers offered safe harbor to countless strangers—mostly children—as they fled for their lives. The same place offers refuge to migrants today. Why?

In a remote pocket of Nazi-held France, ordinary people risked their lives to rescue many hundreds of strangers, mostly Jewish children. Was this a fluke of history, or something more? Anthropologist Maggie Paxson, certainties shaken by years of studying strife, arrives on the Plateau to explore this phenomenon: What are the traits that make a group choose selflessness?

In this beautiful, wind-blown place, Paxson discovers a tradition of offering refuge that dates back centuries. But it is the story of a distant relative that provides the beacon for which she has been searching. Restless and idealistic, Daniel Trocmé had found a life of meaning and purpose—or it found him—sheltering a group of children on the Plateau, until the Holocaust came for him, too. Paxson's journey into past and present turns up new answers, new questions, and a renewed faith in the possibilities for us all, in an age when global conflict has set millions adrift. Riveting, multilayered, and intensely personal, The Plateau is a deeply inspiring journey into the central conundrum of our time.
About the Author
---
Maggie Paxson is a writer, anthropologist, and performer. She is the author of Solovyovo: The Story of Memory in a Russian Village, and her essays have appeared in The Washington Post Magazine, The Wilson Quarterly, and Aeon. Fluent in Russian and French, she has worked in rural communities in northern Russia, the Caucasus, and upland France.
Praise For…
---
Named a best book of 2019 by Bookpage

"A lyrical book, by turns ungainly and graceful, dark and uplifting—right in step with the struggle 'to be good when it's hard to be good.'" — The Atlantic

"This radiant, anthropological history unearths the community's tradition of caring for the displaced and reflects on whether goodness is innate." – O, The Oprah Magazine

"The plateau, [Paxson] concludes, is a place 'made holy by the aggregate acts of love within.' … It could be an example again of what can be done for the refugees of today. One of the great tragedies of World War II was that there weren't more such plateaus. It's a tragedy, as Ms. Paxson's book demonstrates, that continues to this day." —The Wall Street Journal

"A loving combination of personal memoir, historical investigation and philosophical meditation." — The Washington Post

"Powerful and engagingly written . . .  The strength of her work lies in its refreshing blend of scientific rigor and openness to the intricacies and mysteries of the human heart. . . . [opening] the door to vulnerability, faith, love, and beauty, reminding us that they really will always draw us toward the light." — Jewish Book Council

"Paxson's beautiful writing threads these stories together so exquisitely that at times I had to stop and take a breath, even cry, before carrying on." — BookPage (starred)

"Inspiring, riveting, and brilliantly researched and written, this is a book for our time by an author who has found her calling and risen with literary grace to a powerful challenge." —Booklist (starred)

"Lyrical, complex, [and] genre-melding...History, memoir, profound soul-searching about peace, and meditations on the moral limitations of observation (rather than action) are woven together with dreamlike sequences imagining the lives of victims whose fates aren't on historical record. The beautifully written, often heartrending narrative is as unforgettable as the region and individuals it brings to life." —Publisher's Weekly (starred)

"Multilayered, intimate .. Paxson is meticulous in her attention to  … the way people live, their language, the choices people make in times of violence …  An elegant, intensive study that grapples with an enormous idea: how to be good." —Kirkus Reviews (starred)

"Maggie Paxson went in search of human goodness and found a story that affected me in ways few books ever have. The Plateau is exquisite, excruciating, fearless  -- a book not only for these times, when our need for understanding is so great, but for all times. A masterpiece." —David Finkel, author of The Good Soldiers and Thank You for Your Service

"After so much written about evil and pathology, here at last is a beautiful book that proves that selflessness is not a fairy tale. In describing an astonishing tradition of idealism and sacrifice, Maggie Paxson captures human goodness in all its complexity and ferocity."
 —Larissa MacFarquhar, author of Strangers Drowning

"Maggie Paxson takes us on this wondrous, probing journey in her search for the roots of kindness. How is it, she asks, that this one small place has so bravely stood up for strangers? The Plateau and the people you'll meet in its pages are just the right antidote for these unsettling times."
— Alex Kotlowitz, author of There Are No Children Here and An American Summer
 
"In a world that feels increasingly dark, Paxson's remarkable search for parallels and paths to goodness between past and present, war and peace, is a heartbreaking and clear-eyed exploration of all that makes us human. She offers readers the key to survival: hope." —Sarah Wildman, author of Paper Love: Searching for the Girl My Grandfather Left Behind