Friendswood (Hardcover)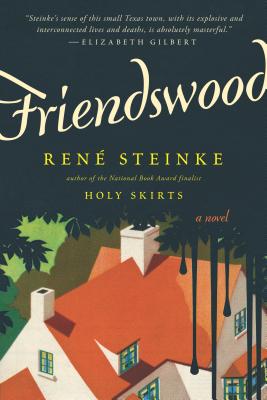 Staff Reviews
---
When a real estate developer wants to rebuild the neighborhood that was shut down and evacuated when the EPA found toxic waste buried under a tidy subdivision in Friendswood, TX, Lee knew drastic action was required. Lee suspects her 12 year old daughter's death, as well as a higher than average number of local residents' deaths, was due to their exposure to the myriad of deadly chemical compounds that oozed into the city's soil, air, and water while they were living in the vicinity of Banes Chemical Company. Besides the environmental concerns, the town is also reeling from the rape of a local high school girl by at least two of the star football players. In a town where everyone knows everyone, secrets and deception abound until yet another tragedy strikes. Conniving neighbors, mysterious photographs, corporate greed, good ol' boy mentality, and nefarious actions leave no one unscathed.
— Martha
Description
---
Steinke's sense of this small Texas town, with its explosive and interconnected lives and deaths, is absolutely masterful. Elizabeth Gilbert
A big, moving novel of one tight-knit Texas community and the events that alter its residents lives forever.
Friendswood, Texas, is a small Gulf Coast town of church suppers, oil rigs on the horizon, hurricane weather, and high school football games. When tragedy rears its head with an industrial leak that kills and sickens residents, it pulls on the common thread that runs through the community, intensifying everything. From a confused fifteen-year-old girl beset by visions, to a high school football star tormented by his actions, to a mother galvanized by the death of her teen daughter, to a morally bankrupt father trying to survive his mistakes, Rene Steinke explores what happens when families are trapped in the ambiguity of history's missteps when the actions of a few change the lives and well-being of many.
Driving the narrative powerfully forward is the suspenseful question of the fates of four Friendswood families, and Steinke's striking insight and empathy. Inspired in part by the town where she herself grew up, this layered, propulsive, psychologically complex story is poignant proof that extreme public events, as catastrophic as they might seem, must almost always pale in comparison to the intimate personal experiences and motivations of grief, love, lust, ambition, anxiety, and regret.
About the Author
---
Rene Steinke is the author of the novels The Fires and Holy Skirts, which was a finalist for the 2005 National Book Award. She is the Director of the MFA program in creative writing at Fairleigh Dickinson University. She lives in Brooklyn."
Coverage from NPR