Superstitions: A Handbook of Folklore, Myths, and Legends from around the World (Mystical Handbook #5) (Hardcover)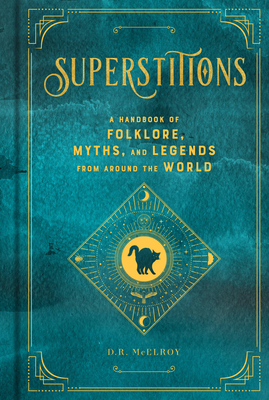 $19.99

Usually Ships in 4-7 Days
Description
---
Across all cultures and spanning centuries, superstitions rooted in cultural legends and myths have formed and influenced daily life. Superstitions: A Handbook of Folklore, Myths, and Legends from around the World​ explains how and why these legends and the associated behaviors behind them developed, accompanied by beautiful illustrations.

In this definitive reference, you'll learn the fascinating and often bizarre histories of a comprehensive range of superstitions from around the world. For example, the belief that one will have seven years' bad luck if you break a mirror is said to come from the Romans, who were the first to create glass mirrors. And in Japanese culture, cutting your nails at night is thought to lead to a quick death because the two phrases sound similar.

You'll also find out why some superstitions vary from culture to culture. For instance, the "unlucky" number 13 is considered a bad omen in some countries, like the US, and "lucky" in other countries, like Italy—where the number 17 is considered unlucky. The information is organized by country, so you can easily investigate the popular superstitions linked to your own or other specific ethnic heritage or cultural identity.

Satisfy your burning curiosity with this complete guide to superstitions, folklore, and myths.

The Mystical Handbook series from Wellfleet takes you on a magical journey through the wonderful world of spellcraft and spellcasting. Explore a new practice with each volume and learn how to incorporate spells, rituals, blessings, and cleansings into your daily routine. These portable companions feature beautiful foil-detail covers and color-saturated interiors on a premium paper blend.

Other titles in the series include: Witchcraft, Love Spells, Moon Magic, Knot Magic, and House Magic.
 
About the Author
---
D.R. McElroy has a Bachelor of Science in Horticulture and a Master of Science in Environmental Resources, and has been a professional editor and writer for ten years. She is the author of Signs & Symbols of the World and co-author of Celestial Watercolor. She lives in Michigan.