Circe Lib/E (Compact Disc)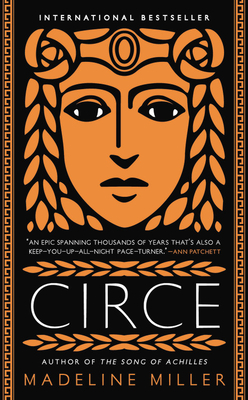 Staff Reviews
---
We all know Circe as the witch that Odysseus encounters in Homer's epic, but before that she was the daughter of a titan and a nymph, living an isolated eternity in her father's household as power changed hands from the ancient Titans to the brazen Olympians. Upon learning that she and her siblings were born with the powers of sorcery, the young gods see fit to banish Circe to the island of Aeaea to live out her endless days alone. However, even the vengeful gods can become bored after a few millennia, and Circe attempts to find a way to live a meaningful life within the confines of her banishment. Though our protagonist is a goddess, this story is a powerful testament to humanity. Miller has once again taken threads of myth and rewoven them into a story that is bound to become a modern classic. 
— Madeline
April 2018 Indie Next List
---
"This remarkable journey into mythology brings the ancient gods directly and viscerally into the present. Circe is a perfect mashup of elegant language, glorious storytelling, and exquisitely modern sensibilities. Miller's telling left me awed and moved by Circe and her story, all while wishing I could invite her over for a glass of wine on the porch. How this amazing author so perfectly melds the human and the divine, creating a story both immediate and epic, is dazzling."
— Beth Albrecht, The Magic Tree Bookstore, Oak Park, IL
Description
---
The daring, dazzling and highly anticipated follow-up to the New York Times bestseller The Song of Achilles
In the house of Helios, god of the sun and mightiest of the Titans, a daughter is born. But Circe is a strange child-not powerful, like her father, nor viciously alluring like her mother. Turning to the world of mortals for companionship, she discovers that she does possess power-the power of witchcraft, which can transform rivals into monsters and menace the gods themselves.
Threatened, Zeus banishes her to a deserted island, where she hones her occult craft, tames wild beasts and crosses paths with many of the most famous figures in all of mythology, including the Minotaur, Daedalus and his doomed son Icarus, the murderous Medea, and, of course, wily Odysseus.
But there is danger, too, for a woman who stands alone, and Circe unwittingly draws the wrath of both men and gods, ultimately finding herself pitted against one of the most terrifying and vengeful of the Olympians. To protect what she loves most, Circe must summon all her strength and choose, once and for all, whether she belongs with the gods she is born from, or the mortals she has come to love.
With unforgettably vivid characters, mesmerizing language and page-turning suspense, Circe is a triumph of storytelling, an intoxicating epic of family rivalry, palace intrigue, love and loss, as well as a celebration of indomitable female strength in a man's world.