Give Me Your Hand Lib/E (Compact Disc)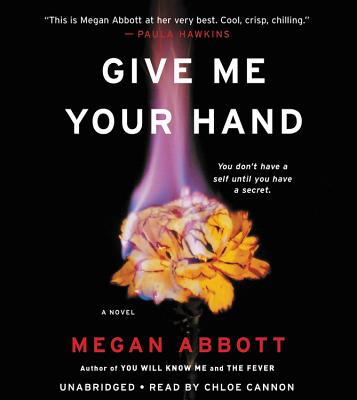 Staff Reviews
---
Kit Owens and Diane Fleming are thrown together as friends in high AP chem class.  Both are budding brilliant scientists, competitive in sports and a little awkward at 15 years of age.  They are not the best of friends, just ones that seem to gravitate to one another.  Diane shows up one day to share a big secret.  A horrible secret.  Kit is furious and mortified now that she must keep this secret as well.  They drift apart while occasionally running into each other and continue to shelter the horrible secret.
Now, ten years later, both women have their doctorates in advanced chemistry working for high power yet competing labs.  Kits lab wins a grant to study PMDD that affects girls and women with menstrual cycles that are life destructive if not violent.  Kit wants the job to work closely with the PMDD guru but is stunned when they hire Diane to join her in the studies.
Back together on a daily basis, the secret keeps rearing its ugly self both from Diane wanting to bury it and Kit having to stomach the reality of their past.  When a murder of a lab technician brings police into the picture, the plot thickens and races to inevitable exposure of more and more secrets.
— Kathleen
Description
---
A mesmerizing psychological thriller about how a secret can bind two friends together forever ... or tear them apart.
Kit Owens harbored only modest ambitions for herself when the mysterious Diane Fleming appeared in her high school chemistry class. But Diane's academic brilliance lit a fire in Kit, and the two developed an unlikely friendship. Until Diane shared a secret that changed everything between them.
More than a decade later, Kit thinks she's put Diane behind her forever, and she's begun to fulfill the scientific dreams Diane awakened in her. But the past comes roaring back when she discovers that Diane is her competition for a position both women covet, taking part in groundbreaking new research led by their idol. Soon enough, the two former friends find themselves locked in a dangerous game of cat-and-mouse that threatens to destroy them both.