When Sea Becomes Sky (Hardcover)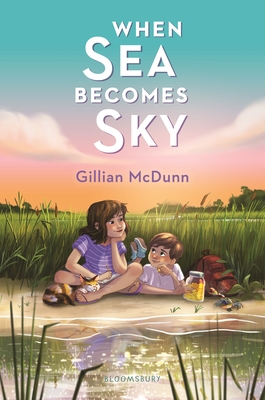 $16.99

Usually Ships in 4-7 Days
Staff Reviews
---
Bex and Davey love hanging around the marsh in the summer, and they have their favorite place, The Thumb. They spend their days in their favorite live oak tree, watching the crabs and the otters, and getting to spend time away from the real world. There hasn't been any rain for a long time, and the drought means they discover a statue buried in the mud of the marsh. They also find out there is a plan to plow over their favorite hidden spot with a bridge and new construction. The summer has become a race to find out more about the statue and try to stop the construction from ruining their favorite hidden spot. But between the mystery and the worry, there's a lot more to the story. McDunn has crafted one of the most beautiful pieces of writing in this book, and it is not to be missed.
— Aerie
March/April 2023 Kids Indie Next List
---
"This is now one of my favorite books. I was devastated while reading this wonderfully crafted story. This book will rip your heart out and put it back together perfectly. I highly recommend When Sea Becomes Sky for readers young and old."
— Rayna Nielsen, Blue Cypress Books, New Orleans, LA
Description
---
In this heartfelt summer story, acclaimed author Gillian McDunn paints a stunning portrait of the bond of siblings and the love we'll always carry with us.

Bex and Davey's summer in the saltmarsh is different this year, thanks to the record-breaking drought. Even the fish seem listless--and each day the water level lowers farther. When they discover a mysterious underwater statue, they're thrilled at the chance to solve the puzzle of its origin. This is the summer adventure they've been waiting for.

When they learn of a development plan that will destroy their special spot, they'll need to act quickly. Unfortunately, sometimes progress happens whether you're ready or not. What will it mean if Bex and Davey lose their corner of the marsh where otters frolic and dragonflies buzz--their favorite place to be siblings together?

As Bex and Davey attempt to save the statue and their beloved marsh, they come to see that the truth is not as simple as it seems . . . ultimately discovering so much more about life, permanence, love, and loss than they ever expected.

Award-winning author Gillian McDunn crafts a gorgeous story of love and siblinghood, of secret statues and island life, of holding on and letting go.
About the Author
---
Gillian McDunn is the author of Honestly Elliott, These Unlucky Stars, The Queen Bee and Me, and Caterpillar Summer, which received two starred reviews, and was selected for the Texas Bluebonnet Award Master List, and Kirkus and Parents magazine Best Books of the Year lists. When she isn't reading or writing, she is probably baking gluten-free treats, traveling, or spending time with her family. She lives near Raleigh, North Carolina, with her husband and children, and a very silly dog named Friday.

www.gillianmcdunn.com
@gillianmcdunn
Praise For…
---
"A beauty of a story." —Rajani LaRocca, Newbery Honor-winning author of RED, WHITE, AND WHOLE

"A moving portrait of grief and growing up. . . The narrative is gentle and compassionate. . . . McDunn offers a bittersweet ode to the heartbreakingly ephemeral periods in life, and this novel provides a possible path forward after loss, even if it cannot offer easy answers." —BCCB, starred review

"Written with immediacy and grace...fully engaging novel." —Booklist, starred review

"An undeniably beautiful story made for pondering and revisiting . . . Considers big questions and appreciates quiet moments with mastery, compassion and care." —BookPage

"An expansive mystery starring two closely bonded siblings." —Publishers Weekly

"The pages shine with love, loss, and a sense of place. . . . A mystery that, as it is uncovered, becomes something much more profound." —Kirkus Reviews

"A novel full of heart, humor, and honesty. . . . Elliott is an instantly lovable character, and readers will be hooked from the very first chapter." —School Library Journal, starred review, on HONESTLY ELLIOTT

"McDunn has a talent for creating sympathetic characters. . . . This well-paced, heartfelt chapter book offers a lovable main character, a lively supporting cast, and a satisfying conclusion." —Booklist, starred review, on HONESTLY ELLIOTT

"McDunn (These Unlucky Stars) offers an affirming and nuanced depiction of empathetic and creative Elliott's experience of ADHD. . . . Elliott's relationship with his father, from whom he craves acceptance despite his dad's failure to acknowledge Elliott's specific challenges, is particularly inspiring as the two work toward openness and understanding." —Publishers Weekly, starred review, on HONESTLY ELLIOTT

"In a droll, engaging, self-effacing, and disarmingly open voice, Elliott narrates his story, providing realistic, firsthand insights into living with ADHD. A refreshingly honest exploration of family and friendship." —Kirkus Reviews, starred review, on HONESTLY ELLIOTT