Remind Me to Hate You Later (Hardcover)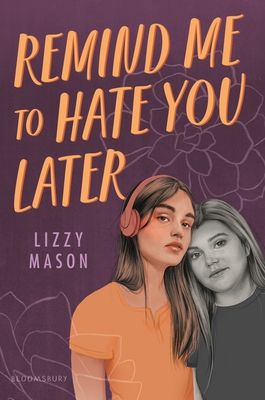 Description
---
A story about the pressures of social media, the lengths influencers will go to for fame, and the grief of losing a loved one to suicide, perfect for fans of Jandy Nelson and Gayle Forman.

Seventeen-year-old Jules grew up in her mother's spotlight. A "parenting influencer," Britt shares details of her daughter's life-pictures, intimate stories, insecurities, all-to a point that becomes unbearable to Jules.

And suddenly she's gone.

Natalie has only barely begun to grieve her best friend Jules's death when Britt announces her plans to publish a memoir that will dissect Jules's life and death. But Nat knows the truth behind Britt's "perfect" Instagram feed-Jules hated the pressure, the inauthenticity, the persona. There's so much more to Jules than Britt and her followers could ever know. As Nat connects with Jules's boyfriend, Carter, and their shared grief and guilt bonds them, she becomes determined to expose Britt, to understand what really happened, and who is to blame.

In a world that feels distorted by celebrity and the manipulations of social media and public opinion, Natalie and Carter need something real to hold onto. Remind Me to Hate You Later is a moving account of grief, depression, complex relationships, love, and the search for truth.
About the Author
---
Lizzy Mason grew up in northern Virginia before moving to New York City for college and a career in publishing. Now back in Virginia with her two cats, when not reading or writing, Lizzy loves to travel. She has visited forty-five states and eleven countries so far. She is the author of Remind Me to Hate You Later, The Art of Losing, and Between the Bliss and Me.
www.lizzymasonbooks.com
@LizzyMason21
Praise For…
---
"A luminous, masterfully drawn story of surviving grief, love, and seeing people's truth. Get out your tissues for this one." —Jeff Zentner, award winning author of THE SERPENT KING and IN THE WILD LIGHT

"A triumph of a story that offers a tender yet blistering look at love, grief, relationships, and healing. Full of hope and heartache, this book will stay with you long after the last pages. I devoured it, wept frequently, and left with a full heart." —Jamie Pacton, author of THE VERMILION EMPORIUM, LUCKY GIRL, and THE LIFE AND (MEDIEVAL) TIMES OF KIT SWEETLY

"An unflinching look at the way grief and love are inextricably intertwined, shaping each other and us. I read this entire book in one night, tearing through the pages even as I teared up." —Beth Revis, NY Times bestselling author of A WORLD WITHOUT YOU and GIVE THE DARK MY LOVE

"An important and heartfelt book that broke me apart and reassembled me, REMIND ME TO HATE YOU LATER is a timely, beautiful meditation on grief and the people left behind. I laughed, I sobbed, I loved it." —Susan Dennard, NY Times bestselling author of The Witchlands series and THE LUMINARIES

". . . A painfully tender examination of the complexities of grief, as Natalie stumbles through a whole mess of complicated, mostly awful feelings, finally emerging quite scathed but still holding on to hope." —BCCB

"A worthwhile, authentic meditation on loss, difficult family dynamics, and emotional growth." —Kirkus Reviews

"You'll be obsessed." —Cosmopolitan on THE ART OF LOSING

"The Art of Losing handles the themes of guilt and the cycle of addiction with grace and deftness." —Entertainment Weekly on THE ART OF LOSING

"The Art of Losing is a lyrical and moving exploration of the fraught bonds of family, the suffocating bonds of addiction, and the warm, embracing bonds of love. This is a book you won't soon forget." —Jeff Zentner, Morris Award-winning author of THE SERPENT KING, on THE ART OF LOSING

"A brave and beautiful story about sisters, addiction, and finding your place in the world--a book that belongs on every shelf." —Kathleen Glasgow, New York Times bestselling author of GIRL IN PIECES, on THE ART OF LOSING

"An unflinchingly honest and touching dive into the ever-complex relationship between sisters, the reality of addiction, and the nature of love in all forms. I will never forget Harley or her story." —Alexandra Bracken, #1 New York Times bestselling author of PASSENGER, on THE ART OF LOSING

"With prose that taps into the highest of highs and lowest of lows, The Art of Losing shows exactly what it means to have a sister, to be a sister, and--the scariest of all--to possibly lose a sister. As a big sister myself, this story rang so true." —Susan Dennard, New York Times bestselling author of TRUTHWITCH, on THE ART OF LOSING

"Lizzy Mason's powerful debut is about the bonds and betrayals of sisterhood and accepting flaws in those we love. Emotionally resonant and, at times, gut-wrenching, Harley's story is one that will stay with you long after turning the last page." —Elizabeth Eulberg, bestselling author of BETTER OFF FRIENDS, on THE ART OF LOSING