A Taste of Magic (Hardcover)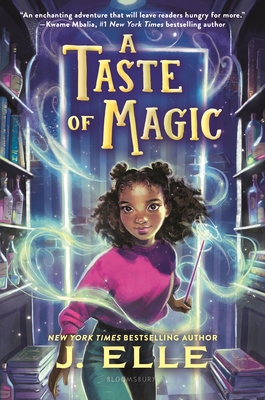 Staff Reviews
---
Upon turning twelve, Kyana discovers she's a witch when sparks fly from her fingertips. She learns she must attend magic school while keeping this family trait a secret — even from her best pal, Nae. At Park Row Magick Academy (stealthily tucked behind a neighborhood beauty parlor), Kyana struggles to learn various spells, charms, and potions. Regular middle school remains a challenge too, and her grandma is showing early signs of Alzheimers. Kyana becomes overwhelmed with juggling all of these new aspects of her life. To add to her troubles, she learns that the Magick counsel plans to close Park Row's academy due to lack of funding, which would make it nearly impossible for kids from her area to learn the necessary skills. Luckily, Kyana has always excelled at baking, thanks to the help of her MeMaw. During all the turmoil, Ky turns on the oven and whips up some magical treats and enters a baking competition in an effort to save this special school. A Taste of Magic kicks off this middle grade series with sweet twists and spunky characters. Go ahead and take a bite!
— Liz
September/October 2022 Kids Indie Next List
---
"J. Elle has created the magic school we've all been waiting for — it is funny and sweet and absolutely charming, and middle grade readers will be going wild for this gem of a novel that is literal Black Girl Magic."
— Isabella Ogbolumani, Buffalo Street Books, Ithaca, NY
Description
---
"An enchanting adventure that will leave readers hungry for more." – Kwame Mbalia, #1 New York Times bestselling author

New York Times bestselling author J. Elle makes her middle grade debut in this magical new series about a Black girl who learns she's a witch and must save her inner-city magic school from closing, perfect for fans of Wendy Mass.

Kyana Turner has just found out the family secret--she's a witch! This means mandatory lessons every Saturday at Park Row Magick Academy, the magic school hidden in the back of her local beauty shop. Learning spells, discovering charms and potion recipes, and getting a wand made to match her hair's curl pattern, Kyana feels like she's a part of something really special. The hardest part will be keeping her magic a secret from non-Magick folks, including her BFF, Nae.

But when the school loses funding, the students must either pay a hefty tuition at the academy across town or have their magic stripped . . . permanently. Determined not to let that happen, Kyana comes up with a plan to win a huge cash prize in a baking competition. After all, she's learned how to make the best desserts from her memaw. But as Kyana struggles to keep up with magic and regular school, prepare for the competition, and keep her magic secret, she wonders if it's possible to save her friendships, too. And what will she do when, in the first round of competition, a forbidden dollop of magic whisks into her cupcakes?

J. Elle's debut middle grade fantasy is full of humor, heart, and mouthwatering desserts.
About the Author
---
J. Elle is the New York Times bestselling author of the YA novels Wings of Ebony and Ashes of Gold and is an advocate for marginalized voices in both publishing and her community. Born in Houston, Texas, J. is a first-generation college student with a Bachelor of Journalism and Master of Arts in Educational Administration and Human Development. Her passion for empowering youth dates back before writing to her first career in education. She's worked as a Preschool Director, Middle School Teacher, and High School Creative Writing Mentor. In her spare time you'll find her volunteering at an alternative school, providing feedback for aspiring writers, loving on her three littles, or cooking up some dish true to her Texas and Louisiana roots.
authorjelle.com
@AuthorJ_Elle
Praise For…
---
"Delightful and charming, A Taste of Magic bursts with adventure, mischief, and so much heart. Readers will turn ravenous for all things magic and their opportunity to enroll in Park Row Magick Academy." —Dhonielle Clayton, New York Times bestselling author

"A Taste of Magic is an enchanting adventure that will leave readers hungry for more." —Kwame Mbalia, #1 NYT bestselling author

"Successfully illustrating themes of class separation and economic opportunity across a mostly Black cast, Elle (Wings of Ebony) builds a story of familial love and friendship and tops it with pure culinary enthusiasm." —Publishers Weekly

"Elle tackles weighty topics--including educational equity and dementia--with tenderness and thought. . . . Positive female relationships and fantastical humor (particularly around animals) round out this warm food- and family-centered story." —Booklist

"This fast-paced, heartfelt story deliciously blends realism with the whimsy of the mystical. . . . A charming story of magic, love, and community." —Kirkus Reviews