The Gravity of Us (Hardcover)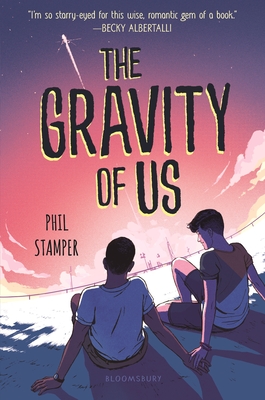 $17.99

Usually Ships in 4-7 Days
Staff Reviews
---
Cal's a social media teen journalist with over half a million followers and a summer internship at Buzzfeed until his father comes home and announces that he's been selected as the newest astronaut on NASA's mission to Mars and the family's moving from Brooklyn to Houston. The hype surrounding today's astronauts resembles that of the 1960's, only this time it's reality programming with 24/7 coverage everywhere. When Cal meets Leon, the son of another astronaut, there's an instant attraction. And when Cal discovers some secrets about the upcoming mission, he has to get to the truth without hurting his family or his new relationship. This is the Space Race love story you never knew you needed!
— Ann
Spring 2020 Kids Indie Next List
---
"A triumphant debut that absolutely soars, The Gravity of Us is a grounded love story set on Earth but inspired by the stars. Budding journalist Cal and shy former athlete Leon meet when their parents are chosen to go on a mission to Mars for NASA, but it's much more than a meet-cute as Stamper explores the complexity of social media, journalism, science, and more. It's earnest, dazzling, and everything you want in a debut novel. Perfect for fans of Adam Silvera and John Green."
— Sami Thomason, Square Books, Oxford, MS
Description
---
"I'm so starry-eyed for this wise, romantic gem of a book." - Becky Albertalli, bestselling author of Simon vs. the Homo Sapiens Agenda

In this smart, heart-warming YA debut perfect for fans of Becky Albertalli and Adam Silvera, two teens find love when their lives are uprooted for their parents' involvement in a NASA mission to Mars.

Cal wants to be a journalist, and he's already well underway with almost half a million followers on his FlashFame app and an upcoming internship at Buzzfeed. But his plans are derailed when his pilot father is selected for a highly-publicized NASA mission to Mars. Within days, Cal and his parents leave Brooklyn for hot and humid Houston.

With the entire nation desperate for any new information about the astronauts, Cal finds himself thrust in the middle of a media circus. Suddenly his life is more like a reality TV show, with his constantly bickering parents struggling with their roles as the "perfect American family."

And then Cal meets Leon, whose mother is another astronaut on the mission, and he finds himself falling head over heels--and fast. They become an oasis for each other amid the craziness of this whole experience. As their relationship grows, so does the frenzy surrounding the Mars mission, and when secrets are revealed about ulterior motives of the program, Cal must find a way to get to the truth without hurting the people who have become most important to him.

An IndieBound YA Bestseller!
An IndieNext List Pick!
An Amazon Best Book!
A Goodreads Choice Award Finalist!
A Cosmopolitan Best Young Adult Book of the Year!
Recommended on the TODAY Show!
About the Author
---
Phil Stamper is the bestselling author of The Gravity of Us and As Far as You'll Take Me. He grew up in a rural village near Dayton, Ohio. He has a BA in music and an MA in publishing with creative writing. And, unsurprisingly, a lot of student debt. He works for a major book publisher in New York City and lives in New York with his husband and their dog.
www.philstamper.com
@stampepk
Praise For…
---
"Phil Stamper's The Gravity of Us is the first love, first launch, astronaut story I didn't know I needed. I'm so starry-eyed for this wise, romantic gem of a book." —Becky Albertalli, bestselling author of SIMON VS. THE HOMO SAPIENS AGENDA

"A big-hearted, witty, and intensely relatable debut about reaching for your dreams without losing what grounds you." —Karen M. McManus, New York Times bestselling author of ONE OF US IS LYING and TWO CAN KEEP A SECRET

"A grounded romance that shapes into its own lovely constellation." —Adam Silvera, New York Times bestselling co-author of WHAT IF IT'S US

"The Gravity of Us speaks poignantly of the things that will attend every human endeavor: family, struggle to know one's self, and the kind of love that makes you feel like you're hurtling to the stars." —Jeff Zentner, Morris Award winning author of THE SERPENT KING

"Phil Stamper's confident debut is an excellent exploration of modern social media, first love, and how to use your voice to do good, centered around the preparations for the first crewed mission to Mars. Calvin and Leon are fierce and sweet, and I never wanted their story to end. To put it bluntly, The Gravity of Us is out of this world." —Shaun David Hutchinson, author of WE ARE THE ANTS, THE PAST, and OTHER THINGS THAT SHOULD STAY BURIED

"At once a tender love story and an honest exploration of anxiety, ambition, and family dynamics, Phil Stamper's The Gravity of Us pulls you in and takes you on a beautiful, heartfelt journey. Never has the NASA space program seemed so romantic." —Caleb Roehrig, author of LAST SEEN LEAVING and WHITE RABBIT

"A debut to remember, Stamper's The Gravity Of Us draws you in for a journey of family, friendships, and ambition while exploring the power of social media and our own voices. Equal parts thoughtful and heartfelt, this book never misses a beat. Cal and Leon have my heart drifting in orbit." —Julian Winters, author of RUNNING WITH LIONS

"A sweet-spirited romance that will capture readers' hearts and imaginations." —Booklist, starred review

"Phil Stamper's The Gravity of Us is so interesting and well crafted that it's hard to believe it's his first novel. . . . Readers will root for Cal and Leon, their budding romance, their astronaut families and, of course, the prospect of life among the stars." —BookPage, starred review

"Stamper crafts a sweet fish-out-of-water tale that also shrewdly explores the intersection between social class and modern media culture…A charming and satisfying first novel." —Kirkus Reviews

"Given the important issues raised-media responsibility, NASA and politics, friendship and romance, mental health-this has something for a lot of different teen readers." —School Library Journal

"A openhearted novel that shows a realistic, imperfect queer relationship and a young man growing to know and to be true to himself even when everything is shifting around him." —Publishers Weekly