A Song and A Prayer: 30 Devotions Inspired by My Favorite Songs (Hardcover)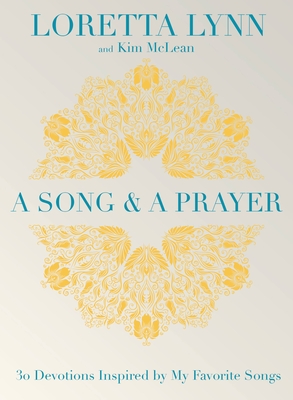 Description
---
Experience spiritual encouragement from the Queen of Country Music with this collection of devotionals and uplifting lyrics.
It's been over sixty years since the late Loretta Lynn first rose to stardom, transforming from a coal miner's daughter to the Queen of Country Music. Loretta knew she was blessed—to record music, to sing her songs to such great crowds, and to write books.
A Song and A Prayer is a collection of devotionals combined with song lyrics that delivers a unique form of worship. Inspired by her songwriting sessions with Kim McLean (a fellow songwriter, music producer, as well as ordained minister and reverend doctor), Loretta's love of God is felt on every page of this book. Readers will learn to experience and maintain an intimate one-on-relationship with God.   This volume will become a cherished companion for Loretta Lynn fans and readers everywhere as they strive to live each precious moment to the fullest and happiest.
Through A Song and A Prayer, readers of all faiths and walks of life will have the opportunity to bask in a month's worth of spiritual encouragement. Loretta's thoughts and lyrics not only capture the presence of God, but also capture a presence that transcends Christianity—the spirit of creativity. In a busy world, Loretta's lyrics and prayers remind readers that God loves them more than they could imagine.
About the Author
---
Loretta Lynn has produced multiple gold albums and boasts an impressive 60-year country music track record, during which she has sold over 45 million albums and produced 16 #1 hit singles and 11 #1 albums. She has received numerous awards and other accolades for her groundbreaking role in country music, including awards from both the Country Music Association and Academy of Country Music as a duet partner and an individual artist. She is the most awarded female country recording artist and the only female ACM Artist of the Decade (1970s).
Kim McLean is a Dove award-winning singer-songwriter, twice Grammy nominated. She has garnered awards from N.S.A.I., ASCAP, and the Just Plain Folks Americana Song of the Year, and has TV/Film credits that include shows on NBC, CBS, and ABC. She is a music producer and has worked with major labels, Curb and Sony, as well as many indie artists. Kim travels extensively as a keynote speaker/singer. She was instrumental in developing a songwriting program at Trevecca University in Nashville which she directed for over a decade. She earned her MA in religion in 2008 and is an ordained minister in the Church of the Nazarene as well as a Doctor of Education. She has served as a worship leader and is currently the lead pastor of Music City West Church in Nashville, TN.