Beautiful on the Outside: A Memoir (Hardcover)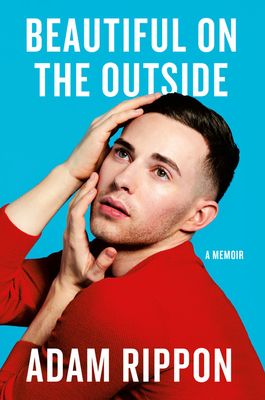 Staff Reviews
---
In this candid and entertaining memoir, Olympic medalist Adam Rippon details everything from his early interest in figure skating to his role as the first openly gay man to compete on a U.S. Winter Olympic team. When you're not laughing out loud at his storytelling, you'll admire the drive and attitude that made him who he is today!
— Cathy
Description
---
Former Olympic figure skater and self-professed America's Sweetheart Adam Rippon shares his underdog journey from beautiful mess to outrageous success in this hilarious, big-hearted memoir that the Washington Post calls "comedic gold."
Your mom probably told you it's what on the inside that counts. Well, then she was never a competitive figure skater. Olympic medalist Adam Rippon has been making it pretty for the judges even when, just below the surface, everything was an absolute mess. From traveling to practices on the Greyhound bus next to ex convicts to being so poor he could only afford to eat the free apples at his gym, Rippon got through the toughest times with a smile on his face, a glint in his eye, and quip ready for anyone listening. Beautiful on the Outside looks at his journey from a homeschooled kid in Scranton, Pennsylvania, to a self-professed American sweetheart on the world stage and all the disasters and self-delusions it took to get him there. Yeah, it may be what's on the inside that counts, but life is so much better when it's beautiful on the outside.
About the Author
---
Adam Rippon is an Olympic athlete and medal-winning figure skater. He won the 2010 Four Continents Championships and the 2016 U.S. National Championships and was selected to represent the United States at the 2018 Winter Olympics in Pyeongchang, South Korea. He came out as gay in October 2015 and, at the 2018 Winter Olympics, won a bronze medal as part of the figure skating team event, thus becoming the first openly gay U.S. male athlete to win a medal in a Winter Olympics. Later that year, he was named to the TIME 100 List of Most Influential People, Forbes 30 Under 30; AdWeek's 100 Most Creative and OUT Magazine's Power 50: The Most Influential Voices in LGBTQ America. He won season 26 of Dancing with the Stars: Athletes before going on to be a judge on the premiere season of Dancing with the Stars Juniors.

Praise For…
---
"To be clear: Rippon is funny. He lands a joke like it's a triple axel, with eyebrow-raising, hilarious passages that demand to be read out loud to whomever is nearby...Comedic gold."—Washington Post

"Beautiful on the Outside is a fascinating study in motivation, concentration, and discipline, and one that has lessons for anyone in pursuit of excellence. The fact that it is so full of laughs only makes it that much better." —New York Journal of Books

"Rippon's strength is apparent, and it's easy to see why he is an inspiration to many. From the first line, the writing is conversational and relatable and will engage readers throughout...Highly recommended." —Library Journal (starred review)

"Rippon's personal story is as moving as the account of his success on the ice...This is a no-holds-barred, coming-of age sports memoir. Rippon may have started his career as an underdog, but he prevailed, thanks to his resilience, laser-focused work ethic, and acerbic sense of humor." —Booklist (starred review)

"Delightful...This fun, inspirational memoir will appeal to ice-skating fans who enjoy personality-driven narratives." —Publishers Weekly

"Beautiful on the Outside is funny, relatable, and incredibly inspiring from start to finish."—HelloGiggles