The Three Lives of Alix St. Pierre (Hardcover)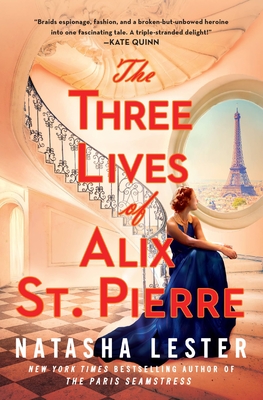 Staff Reviews
---
Alix St. Pierre grew up as an orphan living with a very affluent family, but never really felt part of that world. In 1937, she and her best friend Lillie are completing Swiss finishing school and headed to Paris to set the world on fire. Lillie has a different set of expectations than Alix and has to return to the states to "marry" well etc. The book tells the different lives Alix has lived since the friends parted in 1937: working for the government as a spy in Switzerland, living in DC recruiting women for service, and working for the famous House of Dior. Her past comes to haunt her with a past agent living in Paris who could ruin her new job and life she is trying to build. Working together,  they set out to destroy a powerful German who escaped the trials at the end of the war and is living freely under a new name in Paris. Caught between socioeconomic classes, Alix struggles to put the past ghosts to rest and to begin again, wondering if love could finally be in the cards for her.
— Christina
Description
---
An unforgettable and "fascinating tale" of an orphan turned WWII spy turned fashion icon in Paris (Kate Quinn, New York Times bestselling author of The Diamond Eye).
  Alix St. Pierre. An unforgettable name for an unforgettable woman. She grew up surrounded by Hollywood glamor, but, as an orphan, never truly felt part of that world. In 1943, with WWII raging and men headed overseas to fight, she lands a publicity job to recruit women into the workforce. Her skills—persuasion, daring, quick-witted under pressure—catch the attention of the U.S. government and she finds herself with an even bigger assignment: sent to Switzerland as a spy. Soon Alix is on the precipice of something big, very big. But how far can she trust her German informant…?
 
After an Allied victory that didn't come nearly soon enough, Alix moves to Paris, ready to immerse herself in a new position as director of publicity for the yet-to-be-launched House of Dior. In the glamorous halls of the French fashion house, she can nearly forget everything she lost and the dangerous secret she carries. But when a figure from the war reappears and threatens to destroy her future, Alix realizes that only she can right the wrongs of the past …and finally find justice.



 
About the Author
---
Natasha Lester is the New York Times bestselling author of The Paris Seamstress, The Paris Orphan and The Riviera House, and a former marketing executive for L'Oréal. Her novels have been translated into many different languages and are published all around the world.
When she's not writing, she loves collecting vintage fashion (Dior is a favorite!), practicing the art of fashion illustration, learning about fashion history—and traveling to Paris. Natasha lives with her husband and three children in Perth, Western Australia.
Praise For…
---
"
The Three Lives of Alix St. Pierre
braids espionage, fashion, and a broken-but-unbowed heroine together into one fascinating tale. Natasha Lester weaves a triple-stranded delight!"—
Kate Quinn, New York Times bestselling author of The Diamond Eye
"Natasha Lester has done it again with this sumptuously written page-turner! Alix St. Pierre is everything that makes an admirable heroine – independent, plucky, and clever as the story spans from the fashionable world of Dior in Paris to the fascinating intrigue of international espionage in neutral Switzerland. The Three Lives of Alix St. Pierre is a captivating novel that readers will absolutely adore."
—
Madeline Martin, New York Times bestselling author of The Last Bookshop in London
"As exquisite as the gowns she brings to life for the reader, Natasha Lester's
The Three Lives of Alix St. Pierre
is
a must-read for historical fiction lovers
. Lester effortlessly interweaves the fascinating and sumptuous world of Parisian post-war fashion against the intrigue and danger of espionage during World War II, creating
an unforgettable story helmed by a remarkable, courageous heroine. A stunning, page-turning read!
"—
Chanel Cleeton, New York Times bestselling author
"A remarkable novel… [that] is both daring and compelling. Lester weaves a spellbinding portrait of a woman who knows how to survive—and how to win. … The Three Lives of Alix St. Pierre[is]a wonderfully human and utterly gripping work of historical fiction."
—
Bookpage
"Natasha Lester has expertly woven
a brilliant heroine
who is as brave in the fashion world as she is spying on the enemy. From page one,
I was completely captivated
by her daring and enamored with the glamour of Paris fashion.
Unputdownable!
"—
Eliza Knight, USA Today bestselling author of The Mayfair Bookshop
"Natasha Lester weaves an intricate plot of espionage and revenge around fascinating true facts about the war and its aftermath. A thrilling read."—
Ruth Druart, author of While Paris Slept
"Natasha Lester has written a rich tapestry of a book."—
The New York Journal of Books
"An enthralling page turner! Luxuriant and opulent, just like Dior's glorious gowns."—
Tania Blanchard, author of The Girl from Munich
"Sparkling and complex, like vintage champagne. In
The Three Lives of Alix St Pierre
, Natasha Lester gives us a
brilliant, fascinating
and multi-layered heroine whose dangerous past as a spy in World War II comes to threaten her future in glamorous post-war Paris.
Lester's masterful storytelling held me enthralled from the first page!
"—
Christine Wells, author of Sisters of the Resistance
"Lester weaves a heartbreaking, propulsive narrative of calculated risks, impossible choices and the faint, stubborn hope of redemption and love." —
Shelf Awareness