For Never & Always (Paperback)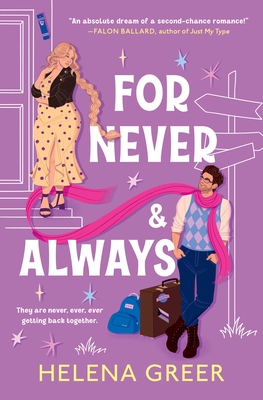 Description
---
One surprise inheritance, two best friends (now bitter exes), and three months to prove he loves her, forever and always, in this swoony second-chance romance for fans of Alexandria Bellefleur and Ashley Herring Blake.
 
Hannah Rosenstein should be happy: after a lonely childhood of traipsing all over the world, she finally has a home as the co-owner of destination inn Carrigan's All Year. But her thoughts keep coming back to Levi "Blue" Matthews: her first love, worst heartbreak, and now, thanks to her great-aunt's meddling will, absentee business partner. 

When Levi left Carrigan's, he had good intentions. As the queer son of the inn's cook and groundskeeper, he never quite fit in their small town and desperately wanted to prove himself. Now that he's a celebrity chef, he's ready to come home and make amends. Only his return goes nothing like he planned: his family's angry with him, his best friend is dating his nemesis, and Hannah just wants him to leave. Again.

Levi sees his chance when a VIP bride agrees to book Carrigan's—if he's the chef. He'll happily cook for the wedding, and in exchange, Hannah will give him five dates to win her back. Only Hannah doesn't trust this new Levi, and Levi's coming to realize Hannah's grown too. But if they find the courage to learn from the past . . . they just might discover the love of your life is worth waiting for.
About the Author
---
Helena Greer writes contemporary romance novels that answer the question, what if this beloved trope were gay? She was born in Tucson, and her heart still lives there although she no longer does. After earning a BA in writing and mythology, and a master's in library science, she spent several years blogging about librarianship before returning to writing creatively.

Helena loves cheesy pop culture, cats without tails, and ancient Greek murderesses.
Praise For…
---
"A moving lifelong love story complete with a satisfying dose of personal growth for both protagonists. . . . Readers, like the charming supporting characters surrounding Hannah and Levi, will be rooting for this well-matched pair."—
Publishers Weekly, Starred Review
"Once again, Greer has written a gem of a book. FOR NEVER & ALWAYS is equal parts romantic and heartbreaking, perfectly capturing the experience of growing up and growing together, and of true love finally finding a right place and a right time. Could not be happier to be back at Carrigan's."—
Rachael Lippincott, #1 New York Times bestselling co-author of She Gets the Girl and Five Feet Apart
"FOR NEVER & ALWAYS is a story about a love that doesn't let go, doesn't ask questions and doesn't listen. Which means Helena Greer does a masterful job, penning characters you believe will do all three as they fight for themselves and the happy ending to their story they deserve."—
Stacey Agdern, author of History of Us
"FOR NEVER & ALWAYS is an absolute dream of a second-chance romance! The pining and the tension leap off the page and will grab you right in the feels. Helena Greer has crafted a gorgeous sophomore novel with the most relatable characters and the most charming setting. Once I started reading, I couldn't put it down!"—
Falon Ballard, author of Just My Type
"Take the history and angst of both a marriage-in-trouble and second-chance romance, wrap it in the warmth and complications of found family, and you'll have just a little taste of Hannah and Levi Blue's epic love story in FOR NEVER & ALWAYS. It always feels like a special privilege to read a book like this one that clearly lives so deeply in its author's heart. Visiting Carrigan's feels like getting wrapped in a huge, queer, Jewish hug, and I cannot wait to return."—
Anita Kelly, author of Love & Other Disasters
"Helena Greer's second book FOR NEVER & ALWAYS packs a major emotional punch. It's got a love-struck, pining hero and a heroine who takes no crap but still can't help falling hard. The book is delightfully queer and with small-town charm—and complications—aplenty, there's a lot to sink your teeth into. Every page is a revelation of emotions and readers will find themselves completely lost in Hannah and Levi's swoony love story."—
Jodie Slaughter, author of Bet on It
"FOR NEVER & ALWAYS captures the vibrancy of a 1940s black-and-white screwball film and displays it in bright, dazzling, inclusive color. Hannah and Levi's love story is a jubilant reunion romance that deftly balances heartfelt angst and aching sweetness. A second trip to the enclave of Carrigan's was just what my queer heart wanted!"—
Timothy Janovsky, author of New Adult
"This book made me so happy. It was an absolute firehose of angst and drama, but in the sparkliest way — I love that our prickly asshole chef Levi is also pining so openly, and our clinically anxious hotel manager Hannah is a font of strength when the chips are down. I love how complicated and messy people are in this book: they make mistakes and they misinterpret and it's all part of the roller coaster. I love the food and the side characters and the emotionally resonant haircut. Can we get a Carrigan's book for every major holiday?"—
Olivia Waite, author of The Hellion's Waltz
"If you are like me and completely obsessed with Hallmark and holiday movies, then you don't want to miss Helena Greer's debut novel, SEASON OF LOVE. This book hits on all your favorite Hallmark tropes as it weaves a beautiful journey from hate to love for Miriam and Noelle. A cozy, queer, heartfelt holiday romance that will have you grabbing a blanket, a cup of hot chocolate, and snuggling down to read this charming book."
—
Rachel Van Dyken, #1 New York Times bestselling author of The Godparent Trap
"A heartwarming and inspiring story about letting go of the past to find your joy and being open to love."
—
Abby Jimenez, New York Times bestselling author of Part of Your World, on Season of Love
"If you need the cozy feel of a Hallmark holiday movie in book form, visit Carrigan's! SEASON OF LOVE has all of the warm, queer, Jewish holiday vibes you could possibly want. It's a cup of cocoa with the perfect amount of marshmallows, it's a sweet kiss under the mistletoe. Helena Greer creates characters and settings that I never want to leave behind."—
Jen DeLuca, USA Today bestselling author of Well Matched
"Satire and romantic holiday magic in equal measure, SEASON OF LOVE is a sly, big-hearted book that will have you laughing even as it makes your heart grow three sizes."—
Jenny Holiday, USA Today bestselling author of So This is Christmas
"SEASON OF LOVE is a warm and witty romance with characters that leap straight off the page and a setting so cozy readers will ache to visit Carrigan's for real. Greer's writing is vibrant and she handles grief and complicated family dynamics with tenderness, treating her characters with the utmost care and affection. Readers will be absolutely smitten with Noelle and Miriam!"
 —
Alexandria Bellefleur, bestselling author of Count Your Lucky Stars
"SEASON OF LOVE uses the magic of the holidays to do what romance novels do best: convince its main characters (and its readers) that the healing power of love is something every single person deserves. This heartwarming debut has everything you want in a holiday romance—and I can't wait to recommend it to my friends."  —
Therese Beharrie, author of And They All Lived Happily Ever After
"A warm, cozy holiday romance, SEASON OF LOVE is a vibrant exploration of embracing that which is most unexpected in life . . . and in love. Best read under the glow of rainbow twinkle lights and a cup of cocoa." —
Ashley Herring Blake, author of Delilah Green Doesn't Care
 "Greer has crafted an idyllic setting I want to whisk away to . . . and a charming cast of characters I want to befriend. Readers are going to lament that Carrigan's isn't a real destination they can jet off to."—
Sarah Hogle, author of Just Like Magic
"Stepping into this book is like stepping into an eccentric winter wonderland—exactly the kind of holiday escapism I crave. Come to Carrigan's for the loveable cast of kooky characters, but stay for the meaningful reflections on grief, family relationships, and identity. At turns a holiday confection and a deep character study, SEASON OF LOVE filled my heart. I can't wait to visit Carrigan's again and again!"—
Alison Cochrun, author of Kiss Her Once For Me
"Greer's debut simply sparkles. It's so easy to get lost in the magic of Carrigan's with Miriam and Noelle, and a stellar secondary cast that includes a fat cat named Kringle. This delightful Christmas Chanukah mashup will have you braiding challah by a Christmas tree."—
Roselle Lim, author of Sophie Go's Lonely Hearts Club