Wonder (MP3 CD)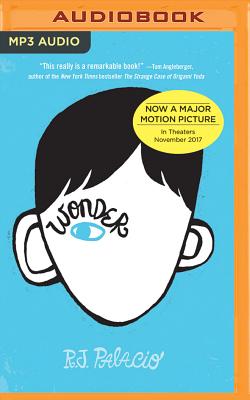 Staff Reviews
---
Because ten-year-old August "Auggie" Pullman was born with extremely severe facial deformities, he has been home-schooled all his life, mostly to accommodate the twenty-seven surgeries he has endured. Auggie is bright, brave, funny, friendly, and good-hearted, but non-family members rarely see past his appearance to enjoy those attributes. Excruciatingly aware that outsiders are—at best—uncomfortable around him, he nevertheless agrees to face the "slings and arrows" that is middle school anywhere, even Beecher Prep, a small private school in Manhattan. WONDER tells the story of Auggie's 5th grade year through his eyes as well as the eyes of his sister, her new boyfriend, a family friend, and two schoolmates.
I think WONDER should be required reading for faculty, staff and students at every school. I love Mr. Browne's monthly precepts and middle school director Mr. Tushman's exhortation to "always try to be a little kinder than is necessary." Reading WONDER can't help but open conversation, bump the empathy barometer, and yield a kinder, gentler nation!
Highly recommended—no, absolutely required—for all—8 years and above
— Jennifer
kids Kids Indie Next List
---
"This is one of the most uplifting stories to come along in a while. Fifth-grader Auggie is a normal kid, except that he has been homeschooled till now because of a facial deformity that he has had since birth. This is a story of acceptance -- a story about going beyond the surface to get to know someone. Great family and classmate relationships ring true and make this a story that can make you both laugh and cry, and one you will never forget."
— Becky Anderson, Anderson's Bookshop, Naperville, IL
Description
---
Kindness brings us together no matter how far apart we are. Millions of people have read the #1 New York Times bestseller WONDER and fallen in love with Auggie Pullman, an ordinary boy with an extraordinary face.
The book that inspired the Choose Kind movement, a major motion picture, and the critically acclaimed graphic novel White Bird.
I won't describe what I look like. Whatever you're thinking, it's probably worse.
August Pullman was born with a facial difference that, up until now, has prevented him from going to a mainstream school. Starting 5th grade at Beecher Prep, he wants nothing more than to be treated as an ordinary kid--but his new classmates can't get past Auggie's extraordinary face. WONDER, now a #1 New York Times bestseller and included on the Texas Bluebonnet Award master list, begins from Auggie's point of view, but soon switches to include his classmates, his sister, her boyfriend, and others. These perspectives converge in a portrait of one community's struggle with empathy, compassion, and acceptance.
Wonder is the best kids' book of the year, said Emily Bazelon, senior editor at Slate.com and author of Sticks and Stones: Defeating the Culture of Bullying and Rediscovering the Power of Character and Empathy. In a world where bullying among young people is an epidemic, this is a refreshing new narrative full of heart and hope. R.J. Palacio has called her debut novel "a meditation on kindness" --indeed, every reader will come away with a greater appreciation for the simple courage of friendship. Auggie is a hero to root for, a diamond in the rough who proves that you can't blend in when you were born to stand out.
Join the conversation: #thewonderofwonder, #choosekind