The Tale of Despereaux Deluxe Anniversary Edition: Being the Story of a Mouse, a Princess, Some Soup, and a Spool of Thread (Hardcover)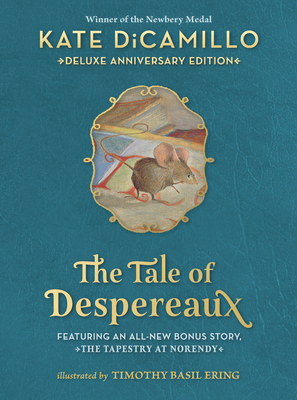 $24.99

Usually Ships in 4-7 Days
Description
---
Celebrate twenty years of Despereaux with a splendid anniversary edition—including a bonus original short story from Kate DiCamillo and a new piece of art by Timothy Basil Ering.

Welcome to the story of Despereaux Tilling, a mouse who is in love with music, stories, and a princess named Pea. It is also the story of a rat called Roscuro, who lives in the darkness and covets a world filled with light. And it is the story of Miggery Sow, a slow-witted serving girl who harbors a simple, impossible wish. These three characters are about to embark on a journey that will lead them down into a horrible dungeon, up into a glittering castle, and, ultimately, into one another's lives. And what happens then? As Kate DiCamillo would say: Reader, it is your destiny to find out.

For this beautifully designed twentieth-anniversary edition, the author has written a brand-new short story, "The Tapestry at Norendy," inspired by the world of Despereaux and presented with a new black-and-white illustration by Timothy Basil Ering.
About the Author
---
Kate DiCamillo is one of America's most beloved storytellers. She is a former National Ambassador for Young People's Literature and a two-time Newbery Medalist. Born in Philadelphia, she grew up in Florida and now lives in Minneapolis.


Timothy Basil Ering is the acclaimed author-illustrator of The Story of Frog Belly Rat Bone, Necks Out for Adventure!, The Almost Fearless Hamilton Squidlegger, and The Unexpected Love Story of Alfred Fiddleduckling, as well as the illustrator of many other books for young readers. He lives in Kingston, Massachusetts.

Praise For…
---
DiCamillo "sets the stage for a battle between the forces of Darkness and Light in THE TALE OF DESPEREAUX, and the book is a terrific, bravura performance."
—New York Times Book Review, The

The author of BECAUSE OF WINN-DIXIE and THE TIGER RISING here shifts gears, demonstrating her versatility while once again proving her genius for mining the universal themes of childhood. . . . I must tell you, you are in for a treat.
—Publishers Weekly (starred review)

A charming story of unlikely heroes . . . This expanded fairy tale is entertaining, heartening, and, above all, great fun.
—School Library Journal (starred review)

Forgiveness, light, love, and soup. These essential ingredients combine into a tale that is as soul stirring as it is delicious.
—Booklist (starred review)

The melodramatic voice of the narrator glides through DiCamillo's entirely pleasing tale . . . And so unwinds a tale with twists and turns, full of forbidden soup and ladles, rats lusting for mouse blood, a servant who wishes to be a princess, a knight in shining—or at least furry—armor, and all the ingredients of an old-fashioned drama.
—Kirkus Reviews (starred review)

There is a classic charm to this picaresque tale of an idealistic mouse suffering unrequited love for a princess; that and a pace that lends itself to reading aloud will make this novel a favorite among those ready for some gentle questing.
—Bulletin of the Center for Children's Books, The

DiCamillo tells an engaging tale . . . Many readers will be enchanted by this story of mice and princesses, brave deeds, hearts 'shaded with dark and dappled with light,' and forgiveness.
—Horn Book, The

Soul stirring and charming.
—Booklist

Newbery-Honor winning DiCamillo creates the perfect read-aloud with delightful, fanciful characters.
—Child's Best of the Year

This old-fashioned tale is overflowing with good and evil, light and dark, scary adventures, and a happy ending. Ideally read aloud.
—Nick Jr. Family Magazine Best Books of the Year

Unexpectedly complex in the relationships between its characters, DiCamillo's fable, engagingly illustrated by Timothy Basil Ering, delivers a carefully orchestrated, but not overstated, testament to the power of love and forgiveness.
—San Francisco Chronicle

Chill winds call for hot cocoa and a good book. THE TALE OF DESPEREAUX serves up 52 chapters bursting with adventure.
—Washington Parent

I give this book the highest rating: five out of five stars.
—Newsday

Heart-stopping and heartwarming. . . . The perfect read-aloud.
—San Francisco Chronicle

Despereaux . . . stands shoulder to shoulder with such legendary literary mice as E.B. White's Stuart Little and Margery Sharp's Bernard and Miss Bianca.

"Reader, it is his destiny — just as it is for THE TALE OF DESPEREAUX to become another timeless classic in the once-upon-a-time genre.
—Orlando Sentinel

This charming adventure by the award-winning author of BECAUSE OF WINN-DIXIE is a story of love, courage and following your heart.
—Detroit Free Press

Read the book aloud. Few recent texts have been designed for that, with multiple plots ticking on, divided into 52 small chapters. And don't forget the coda, a tiny but deft apologia of the imagination.
—Chicago Tribune

This charming fairy tale brims with delightful characters.
—Cleveland Plain Dealer

Here once again, loss brings characters together, misfits find a place in the world, and darkness and light swirl together in a not easily divisible mix.
—Star Tribune

THE TALE OF DESPEREAUX "has DiCamillo's modern sensibilities, her wry humor, and crystalline prose."
—Miami Herald

The story is just plain fun to read, but it also explores deeper and darker aspects of parent-child relations, including betrayal, the need for forgiveness and the power of love.
—Houston Chronicle

SUPER SUMMER READS: THE TALE OF DESPEREAUX by Kate DiCamillo. A smaller-than-usual mouse falls in love with music, stories, and a Princess named Pea.
—Woman's Day

A heartwarming and rewarding read, THE TALE OF DESPEREAUX cheers uniqueness, boos conformity, urges readers to overlook seeming differences, and inspires hope.
—Teacher Magazine

With its old-fashioned, fairy tale qualities and whimsical pencil drawings by Timothy Basil Ering, the book is definitely a departure for DiCamillo, but one readers are sure to love.
—Book Page

. . . DiCamillo's new fantasy novel is charming, by turns sad, sweet, and mildly scary.
—Voice of Youth Advocates

Sly style and brilliantly-crafted characters will reward the reader . . .
—Five Owls, The