October Mourning: A Song for Matthew Shepard (Paperback)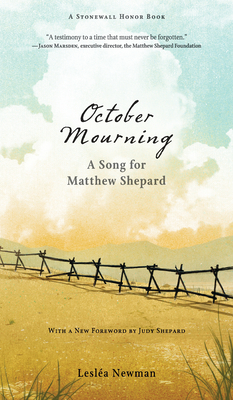 $9.99

Usually Ships in 4-7 Days
Description
---
A masterful poetic exploration of the impact of Matthew Shepard's murder on the world.

On the night of October 6, 1998, a gay twenty-one-year-old college student named Matthew Shepard was kidnapped from a Wyoming bar by two young men, savagely beaten, tied to a remote fence, and left to die. Gay Awareness Week was beginning at the University of Wyoming, and the keynote speaker was Lesléa Newman, discussing her book Heather Has Two Mommies. Shaken, the author addressed the large audience that gathered, but she remained haunted by Matthew's murder. October Mourning, a novel in verse, is her deeply felt response to the events of that tragic day. Using her poetic imagination, the author creates fictitious monologues from various points of view, including the fence Matthew was tied to, the stars that watched over him, the deer that kept him company, and Matthew himself. More than a decade later, this stunning cycle of sixty-eight poems serves as an illumination for readers too young to remember, and as a powerful, enduring tribute to Matthew Shepard's life.
Back matter includes an epilogue, an afterword, explanations of poetic forms, and resources.
About the Author
---
Lesléa Newman is the author of more than seventy books for children and adults, including the groundbreaking children's classic Heather Has Two Mommies. She has received poetry fellowships from the National Endowment for the Arts and the Massachusetts Artists Fellowship Foundation. She lives in Massachusetts.
Praise For…
---
Written with love, anger, regret, and other profound emotions, this is a truly important book that deserves the widest readership, not only among independent readers but among students in a classroom setting, as well. Most importantly, the book will introduce Matthew Shepard to a generation too young to remember the tragic circumstances of hisdeath.
—Booklist (starred review)

Newman's language serves the voices well, the poems always simple, accessible, and moving.
—The Horn Book

These poems are sure to instill much-needed empathy and awareness to gay issues in today's teens.
—Kirkus Reviews

Newman deploys a wide range of poetic forms, including pantoums, villanelles, haiku, and concrete poems, but all share jagged rhythms and a biting sense of grief and helplessness.
—Bulletin of the Center for Children's Books

This title is perfect for any secondary library; it is a brilliant example of various poetic forms and deals with several issues from a variety of perspectives. This book is incredibly thought-provoking and will have a gut-wrenching impact on the reader and discussion groups alike.
—Library Media Connection (highly recommended)

Newman's verse is both masterful and steady-handed. Each poem is beautiful in its subtle sophistication.
—School Library Journal

Newman is an impressive poet, and the collection, in addition to memorializing Matthew Shepard, is a call to action to let go of hatred and make sure nothing like this ever happens again. The book packs an emotional punch, and the skillfully crafted poems will make me never doubt Newman's ability to handle a subject this brutal again. I think that she may be a genius.
—The Hub (YALSA blog)

Does the work of preserving the atrocities of history while firmly offering a vision of choosing life. Refusing to let Shepard fade into oblivion, abstraction, statistic, or symbol, Newman here reminds us that the impulse to repair the world requires imagination as well as concrete memory.
—Lilith Magazine

OCTOBER MOURNING is a stunning, poignant collection of poems that paints a picture of an event that none of us can ever afford to turn away from.
—ALAN YA blog

This is a stunning reminder of what is lost as the result of bigotry and hatred.
—The ALAN Review