The Black Kids (Hardcover)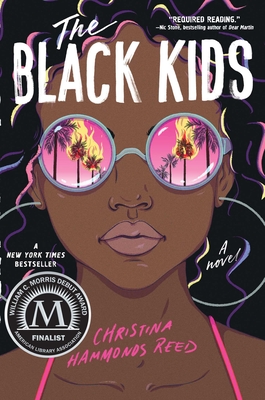 Staff Reviews
---
Reed's excellent writing shines and reflects the sad truth of today's America in this masterpiece of a debut novel. This novel stars Ashley Bennett, a wealthy African-American girl who attends a predominantly white private school that reeks of quiet discrimination in Los Angeles. Ashley's story of her struggle to find herself in a world with so much background noise is told, as she looks around and starts to notice the stark contrast between her life of luxury and the disturbing treatment of African-Americans on the news and in real life everywhere she turns. This timely book takes place in the early 1990s during the protesting of the brutal treatment of Rodney King, with riots and looting in the background that adds this intriguing plot. As Ashley goes through this formative journey of self-discovery, she starts to see how all of the seemingly small acts of discrimination in her own life lead to a much bigger picture that affects Ashley and the people she loves more than she originally thought.
I thoroughly enjoyed and devoured this book!! This novel was an excellent piece of literature, and although this book was set in the 1990s, it highlights the inequity African-Americans face in America today. Reed's writing flowed page after page, and her vivid language instantly transported me into Los Angeles. I learned so much from this book, and it was impossible to put down. I'd recommend this book to anyone looking for an insightful fictional read that ties in real-life events and gives insight to the terrifying, discriminatory, culture African-Americans still face today.
— Gabriella T.
Description
---
A New York Times bestseller

"Should be required reading in every classroom." —Nic Stone, #1 New York Times bestselling author of Dear Martin
"A true love letter to Los Angeles." —Brandy Colbert, award-winning author of Little & Lion
"A brilliantly poetic take on one of the most defining moments in Black American history." —Tiffany D. Jackson, author of Grown and Monday's Not Coming

Perfect for fans of The Hate U Give, this unforgettable coming-of-age debut novel explores issues of race, class, and violence through the eyes of a wealthy black teenager whose family gets caught in the vortex of the 1992 Rodney King Riots.

Los Angeles, 1992

Ashley Bennett and her friends are living the charmed life. It's the end of senior year and they're spending more time at the beach than in the classroom. They can already feel the sunny days and endless possibilities of summer.

Everything changes one afternoon in April, when four LAPD officers are acquitted after beating a black man named Rodney King half to death. Suddenly, Ashley's not just one of the girls. She's one of the black kids.

As violent protests engulf LA and the city burns, Ashley tries to continue on as if life were normal. Even as her self-destructive sister gets dangerously involved in the riots. Even as the model black family façade her wealthy and prominent parents have built starts to crumble. Even as her best friends help spread a rumor that could completely derail the future of her classmate and fellow black kid, LaShawn Johnson.

With her world splintering around her, Ashley, along with the rest of LA, is left to question who is the us? And who is the them?
About the Author
---
Christina Hammonds Reed holds an MFA from the University of Southern California's School of Cinematic Arts. A native of the Los Angeles area, her work has previously appeared in the Santa Monica Review and One Teen Story. The Black Kids is her first novel.
Praise For…
---
Praise for The Black Kids

A NEW YORK TIMES BESTSELLER
RECEIVED THREE STARRED REVIEWS!

* "Incredibly nuanced…An excellent addition to all teen collections with a relatable main character who will lead readers through this heated moment in time."—School Library Journal, starred

* "Christina Hammonds Reed's debut novel, The Black Kids, is set in 1992 but has a timeliness that often feels uncanny…Reed addresses experiences common to Black teens in both 1992 and 2020 with grace and nuance. Her sentences are searingly beautiful…This is a striking debut that fearlessly contributes to ongoing discussions of race, justice and power."—BookPage, starred

* "Reed's stark account of the limitations Black communities have historically faced in the United States, regardless of socioeconomic status, is an answer to the calls for equity and racial justice that for too long have been ignored."—Shelf Awareness, starred

"A timely exploration of '90s Los Angeles during racial upheaval and one girl's awakening."—Kirkus Reviews

"I've never read a book that so aptly delves into the harrowing shift from black girl to black woman, while chronicling one of the most resounding examples of systemic racism in recent American history. Should be required reading in every classroom."—Nic Stone, #1 New York Times bestselling author of Dear Martin

"Infused with honesty, heart, and humor, The Black Kids is a true love letter to Los Angeles, highlighting the beauty and flaws of the city, and the people who call it home."—Brandy Colbert, award-winning author of Little & Lion

"A brilliantly poetic take on one of the most defining moments in Black American history."—Tiffany D. Jackson, author of Grown and Monday's Not Coming