The Perfectly Perfect Wish (Hardcover)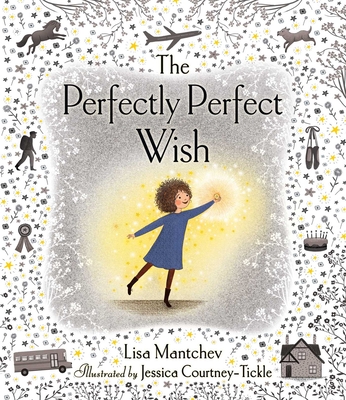 $17.99
Usually Ships in 1-5 Days
Staff Reviews
---
What a lovely book to share with a child about the meaning of empathy and the joy of giving. When a young girl finds a mysterious object while waiting for the school bus, she realizes that it is a wish. But she only gets one! What will she wish for? She spends the day trying to figure out what she might want. At the end of the day, after witnessing other people's wishes and needs, she decides to ask one special wish.
— Valerie
Description
---
"Directly personal and visually dramatic."—Booklist
"Carries a deeper and more important message about considering others' circumstances in light of one's own privileges that many kids may benefit from hearing." —BCCB
"A satisfying storytime read-aloud about the gift of giving and sharing." —School Library Journal

From the author of Strictly No Elephants comes a sweet picture book that explores themes of selflessness and empathy when a girl has the chance to make just one wish.

In the grass, a girl finds an extraordinary thing that gives her…just…one…wish.

She asks her those around her what they would wish for in her shoes, but nothing seems quite right. What will her perfect wish be?

In this pitch-perfect picture book, Lisa Mantchev takes the concept of a magic wish and uses it to explore real world empathy, kindness, and good will.
About the Author
---
Lisa Mantchev is the author of many picture books, including Strictly No Elephants, which garnered awards and rave reviews and is published in fourteen countries. The New York Times called it "a sunny, smart, tongue-in-cheek tale." Her latest, Jinx and the Doom Fight Crime!, received a starred review from Kirkus Reviews: "will captivate readers with…irresistible fun." Lisa lives on the Olympic Peninsula of Washington state with her family. Visit her website at LisaMantchev.com.

Jessica Courtney-Tickle is the author and illustrator of Little Christmas Tree. Publishers Weekly praised, "Courtney-Tickle's friendly digital illustrations teem with life" in a starred review. Jessica also illustrated The Story Orchestra Books by Katy Flint. She lives in London. Learn more at JessicaTickle.co.uk.
Praise For…
---
One morning a girl finds a wish. The only rule is "No wishing for more wishes," so she must choose carefully. She contemplates her personal dreams: a blue ribbon at a horse show, a trip to Japan, real ballerina pointe shoes. She asks her friends and teacher for advice. After much thought she realizes she does not need the wish to fulfill her own dreams. Instead, she wishes for everyone's wish to come true. The final pages are full-color, double-page spreads that show her friend who uses a wheelchair playing with a new puppy, her teacher moving into a house, and her friend with a military parent welcoming his father home. Wishes, imagined and granted, are depicted in full color. The remaining pages are black and white except for the glowing yellow wish. Told in the first person, the story is directly personal and visually dramatic. Pair this with Cat Wishes (2018) by Calista Brill and Thanku: Poems of Gratitude (2019) to explore gratitude and finding what we really want.
— Booklist

A girl finds a token, engraved with "no wishing for more wishes," as she waits for the bus, and jumps to a solid conclusion: "This is exactly one wish. No more, no less." As she considers what to spend it on, she inquires her peers and teachers as to what they would wish for: her friend Eliza wishes for a puppy; her teacher wishes for a "little house for me and my family"; and her classmate Mark wishes for his father to come home safe from his deployment. The girl feels silly about her low-stakes wishes for ballet shoes and visiting Japan, since these are things that can happen with time and effort, and so she decides, "I wish that everyone's wish comes true," and they do. Courtney-Tickle's watercolor and digital illustrations treat pre-wish pages in grayscale, while imagined and fulfilled wishes burst with rainbows of colors against resplendent scenery. Though the premise of this readaloud centers on selflessness and empathy, it carries a deeper and more important message about considering others' circumstances in light of one's own privileges that many kids may benefit from hearing. NB
— BCCB

MANTCHEV, Lisa. The Perfectly Perfect Wish. illus. by Jessica Courtney-Tickle. 32p. S. & S./Paula Wiseman Bks. Feb. 2020. Tr $17.99. ISBN 9781534406193.

PreS-Gr 2–A young girl finds an extraordinary gold coin in the grass with the words, "NO WISHING FOR MORE WISHES" on it. She realizes instantly that this means one wish is permitted; no more, no less. Her "perfectly perfect wish," therefore, must be extra special. The choices are many when she considers the things she personally craves, like a blue ribbon at the horse show, a trip to Japan, or real ballerina pointe shoes. She realizes that these things seem trivial compared to the wishes her good friends truly need: a home of their own, a father back from war, and even a puppy. When she extends her wish to the others, this transforms and elevates it into a sublime "perfectly perfect wish." The yellow glow featured on each black-and-white spread at the beginning of the story lends it a magical quality, followed by the picturesque explosion of color that follows when each wish is envisioned and then becomes a reality. The colors completely fill the page when the wheelchair-using friend gets a yellow dog, the movers deliver a couch to the other's first-ever-new-house, and the third is granted his wish for his father to return home from war. Children may notice that, technically, the "one" wish is really "three" separate ones, but this is a relatively minor flaw given that the "one" is given away as an act of goodwill. Overall, the message is one worth savoring: a truly perfect wish is often one–or more–extended toward others. VERDICT A satisfying storytime read-aloud about the gift of giving and sharing.–Etta ­Anton, Yeshiva of Central Queens, NY
— School Library Journal