Uni the Unicorn (Board book)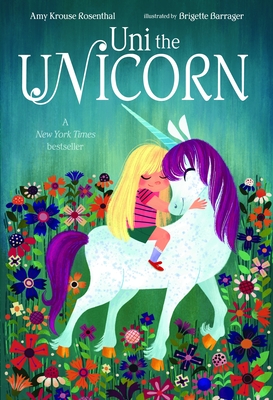 Description
---
The New York Times bestselling story of friendship, unicorns, and the power of believing is now available as a board book!

Uni is just like all the other unicorns . . . except for one thing: she believes that little girls are REAL. This magical story by Amy Krouse Rosenthal (author of I Wish You More) illuminates Uni's not-so-fantastical dream and celebrates the sparkle of believing. This charming board book edition will allow the youngest readers to slide down glorious friendship rainbows alongside Uni and the little girl in whom she believes so very much. Be sure to look for the enchanting sequel, Uni the Unicorn and the Dream Come True, available as a hardcover picture book!
About the Author
---
AMY KROUSE ROSENTHAL is a real girl who writes books for children (such as That's Me Loving You, On the Spot, and Uni the Unicorn, or course) and for grown-ups (Textbook Amy Krouse Rosenthal and Encyclopedia of an Ordinary Life). She lives in Chicago for real, and digitally at whoisamy.com.

BRIGETTE BARRAGER is an artist, designer, and illustrator and writer of children's books. She spent some time at Pixar and Walt Disney Animation Studios before taking the plunge into freelance illustration, where she's lived happily ever after. She resides in Los Angeles with her handsome husband, cute doggy, and terrible cat. Visit Brigette at brigetteb.com.
Praise For…
---
From School Library Journal
PreS-K—In this delightfully entertaining story, children are transported to a land in which unicorns are the norm and little girls are believed to be mythical creatures. Uni is like all the other unicorns in so many ways. She had a swirly horn, a magnificent mane, and the magical ability to make wishes come true. "But there was one thing that definitely set Uni apart. Uni believed that little girls were REAL." Despite being laughed at and dismissed for her beliefs, she dreams of what friendship with a human girl would be like. The book features Rosenthal's familiar mix of humor and wit, making this book ideal for reading out loud or independently. Barrager's illustrations offer full page spreads of whimsical, dreamlike images that will make every reader want to believe in unicorns (or little girls). This book will be read, treasured, and loved by young dreamers.—Megan Egbert, Meridian Library District,

Displaying a magnificent mane, golden hooves, sparkling purple eyes, and a powerful swirly horn, Uni believes that not only are little girls real but a special one will form a magical friendship with her. And somewhere, a little girl is equally certain that unicorns are real and that a very particular one is waiting to be her companion. Joyful illustrations in brilliant color capture the dreams of the two, as they spin and twirl, explore the forest, and slide down a rainbow together. Line drawings of an active youngster are set inside an outline shaped like Uni's head. Although usually portrayed with sweet faces, the dismay each shows when their elders tell them their thinking is only make-believe humorously reinforces their determination to find each other. And friendship triumphs as the two delightedly ride off together. Pair with Robert Heidbreder's I Wished for a Unicorn (2000) and B. G. Hennessy's Claire and the Unicorn Happy Ever After (2010), for other happy twosomes.
— Lolly Gepson


While the spirit of Mary Blair, vintage Golden Books, and 1960s animation influences many contemporary picture books, Barrager (Twelve Dancing Princesses) embraces it fully in this collaboration with Rosenthal (Exclamation Mark). Like her fellow unicorns, Uni is magical and magnificent; she has a luxuriant magenta mane, golden hooves, and violet eyes that don't just sparkle—they basically are sparkles. Where Uni differs from her peers is in her belief that little girls are real, that "a strong smart wonderful magical little girl" is out there waiting to be her best friend. In a series of single-page vignettes, Barrager shows Uni and a blonde, blue eyed human girl dashing through fields of flowers, healing forest animals with Uni's magical horn, and sailing past birds and clouds as they slide down a rainbow. The throwback illustration style, absence of tech (save for a nightlight and record player), and emphasis on clinging to beliefs that the world dismisses as fantasy combine to create a story that encourages kids to stay kids as long as possible. Ages 3–7.Author's agent: Amy Rennert, the Amy Rennert Agency. Illustrator's agent: Vicki Willden-Lebrecht, the Bright Group. (Sept.)